BRILLIANT BAMBOO: KIND TO OUR PLANET, KIND TO YOU
We're excited to launch our new Bamboo capsule collection. At Weird Fish Clothing we're proudly famous for fabrics, so the team have eagerly been anticipating our latest catch. From growth, to creation, to skin feel, Bamboo is brilliant every step of the way.

Made from the pulp of bamboo grass, Bamboo fabric is a natural textile that is super sustainable.
What makes it so kind?
---
Rate of growth: Bamboo grows at a rate of 12 inches per day! This means it's easily replenished.
---
Cut, not uprooted: meaning it's kind to soil.
---
Naturally strong: Bamboo doesn't require fertilizers or pesticides to aid its growth.
---
Reduced carbon footprint: Bamboo is 100% biodegradable so avoids polluting our planet

As well as being sustainable, Bamboo fabric is packed full of features that make is super kind to you.
Our favourites include:
---
Super soft, luxury feel. Although the plant may be tough, Bamboo fabric feels like a cotton-silk blend.
---
Anti-static & chemical free making Bamboo perfect for those with allergies.
---
Moisture absorbing technology means that Bamboo is perfect for active wear.
---
Temperature-control means that Bamboo is warm and breathable, making it versatile for all seasons.
---
UV resistant so those with sensitive skin can be protected from the sun.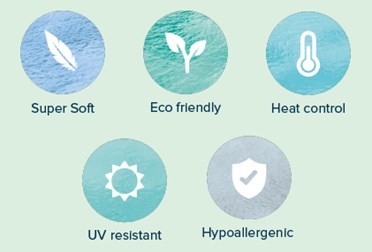 Get active in our range of Bamboo clothing. Perfect for escaping the daily grind with some yoga, a hike, or just for pottering around at home our new collection provides comfort and style you can feel good about it.