Here at Weird Fish, we have a great history of supporting our local communities and have established a number of partnerships and friendships over the years. From baking to bike rides, we're really passionate about doing our bit. Take a look at some of the charities we've supported over the years…
RSPB



Since 2015, we have been in partnership with the RSPB. With help from our social media fans we first created our 'Lord of the Wings' Artist T-Shirt. Since then we have created a further 8 designs, with £5 from each sale going directly to charity. So far we've raised over £60,000!
Our current RSPB T-Shirts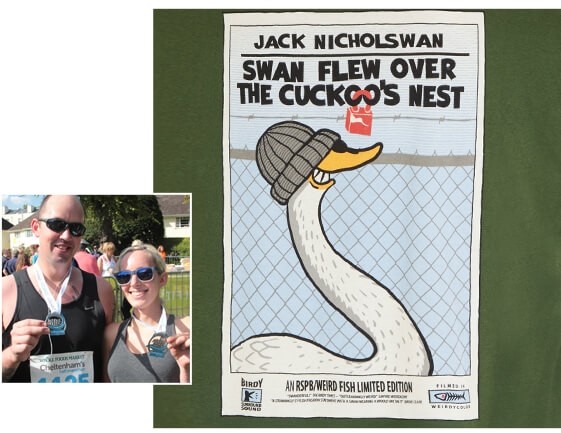 Battersea



In 2017 we teamed up with Battersea Dogs & Cats Home and launched a T-Shirt design competition. The winning idea was drawn up by our very own artist Richard Skipworth. This T-Shirt was then sold online and throughout our stores, with £5 from each sale going directly to the charity. We are continuing this partnership, with two more designs in the pipeline.
Cobalt



Cobalt are a local medical digital imaging centre who invests in equipment, research and education to improve patient diagnosis. In 2012 we launched a t-shirt design competition, a sample sale and a fancy dress day. Since then we have raised over £6,000 for Cobalt through a fancy-dress day, a sponsored indoor rowathon, and our financial controller even took a group with him on a tour of Europe in a vintage Volvo.
Movember



In 2014 a number of male members of the Weird Fish family raised money for Movember by growing out moustaches all for a good cause.
The Scouts



In 2016 we donated 8 boxes of sample clothing to the local 61st Scouts. Some outdoor clothing items were used by the scouts for expeditions, whatever was left they sold and raised over £400. Bill Booth, the Welfare Officer said: "It's more than we could have hoped for and can't thank you enough for all your support".
Oakley community centre



In 2016 a number of us here at Weird Fish offered our services to Oakley community centre. We rolled up our sleeves and got to work helping them paint one of their training rooms.
The British Heart Foundation



In 2016 we entered into the Cotswold Bike Ride for the first time. 6 cyclists of differing ability took on either the 30 or 50 mile tour, whilst other Weird Fish volunteers helped to hand out medals at the finish line. They returned having raised over £500 for the charity. Every year our office also gets involved in Wear it Beat it by wearing something red for the day and collecting money.
Sandford Parks Lido



Our local Cheltenham Lido is a charitable trust, run by a board of volunteers. We have been donating prizes for their events for years, such as their triathlon, but in 2016 we started to sponsor their uniforms. We're proud to say we'll be sponsoring their uniforms again this year.
Red Nose Day



We love an excuse to eat cake, so every Red Nose Day we hold a bake sale to raise funds for the charity - one year we even did it in our pyjamas!
Children in Need



We have been attending the North and South Carfests for 5 years. This family festival helps raise money for Children in Need every year, and we're really looking forward to being part of it again in 2018.
Save the Children



For years we have taken part in Save the Children's Christmas Jumper Day, a bit of fun to see who can outdo each other in the Christmas jumper stakes. It's also a fantastic excuse to bake and eat copious amounts of cake all in the name of charity.