What to Do in Your Garden in November
November 16, 2015
Guest from Alasdair Urquhart from
Haskins Garden Centres
November is a time to enjoy the last of the autumn colours, tidy up the fallen leaves and move any plants before the ground becomes frozen.
With leaves falling, November is the last call for planting before the ground becomes too wet or frozen. It's the perfect time for planting bare-root shrubs or trees and for moving any plants around in your garden. It also the time for finishing off spring bulb planting or putting the final touches to your seasonal colour display, using wallflowers, sweet william, primroses or pansies.
In the vegetable garden you will want to check on your Christmas potatoes, attending to them as necessary. It is also a good time to plant onion sets, garlic and rhubarb crowns for an early harvest next year.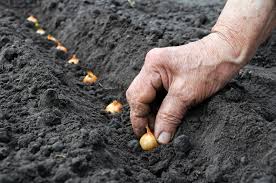 Now that your apples and pears have been harvested, now is a good time to look at pruning. Start with removing any dead, dying or diseased material and then any branches that are rubbing together. You can then prune from the centre outwards to relieve overcrowding and provide better airflow through the canopy. A good rule of thumb is to never remove more than a third of all the branches in any one year.
Whilst you might be inundated with fallen leaves, think twice about throwing them away. Leaves are an excellent source of organic material and are an essential element in nature's nutrient-recycling system. The main places to clean up are lawns, paths, decks and driveways. They will also need to be removed where they are smothering smaller plants or Mediterranean perennials and herbs. Elsewhere they can be left for worms to pull down into their burrows or act as a winter mulch.
Leaves on the lawn need to be removed fairly quickly or they will kill the grass underneath. A simple collection method is to use a lawn mower, which will shred them at the same time. Shredding makes leaves rot down quicker so you can add them to a compost heap, purpose made leaf bin or store them in plastic bags to make your own leaf-mould.
Thank you to Alasdair for another great blog, you can read more from him here.To help with your fallen leaf collection this Autumn Haskins have given us a hand leaf grabber to giveaway to one lucky winner.
For a chance to win please enter our Rafflecopter competition by clicking on the link below.
This competition has now closed and our winner was Margaret Gallagher.