The Weird Fish Allotment (Car Park Garden)
June 12, 2014
Until Nick Harford and Ron Morris got their hands on it, Weird Fish just had a normal car park. But with a little imagination and some elbow grease, these two Weird Fish employees brought some joy and colour to this neglected corner of our company. Today we want to pick their brains as to how they came up with the idea, what troubles they have faced, and what great plans they have for this little heaven in the future.
Nick Harford and Ron Morris, the creators for the Weird Fish allotment
How long have you been at Weird Fish?
Nick: 4 years, Ron: Just over 2 years
When did you first get into gardening?
Nick: My Dad always had an interest but after being forced to garden when I got detentions at school, over a 3 years what started out as a punishment became a school competition between the various houses with teams competing against each other.
Ron: When I was very young 6 or 7 - my granddad had an allotment and I worked with him every weekend until he passed away
What made you come up with the idea of the garden car park?
Nick: I have an allotment and would bring in excess produce for colleagues. This got me thinking that I also had plenty of seeds left over and there was a perfectly good plot of land running along side the car park.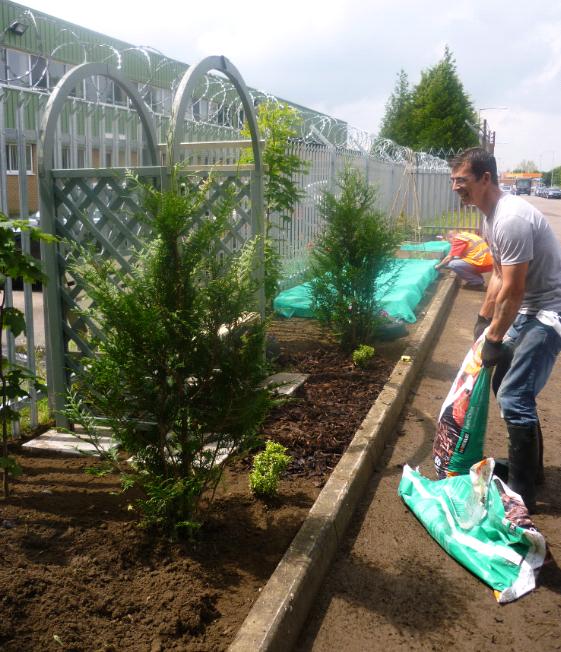 Ron getting ready to plant some crops last year.
Do you have to do things differently in a car park garden to a regular one? If so how?
Nick: The main problem with our car park is there is not a lot of soil so things like potatoes need to be buried beneath the surface are not ideal.
We have Nick to thank for the idea and the hard work he puts in to keep the garden growing.
What do we have growing at the moment?
Ron: Red and white onions, garlic , carrots, courgettes, then next month it will be beans , potatoes, swede, spring onions and salad leaves.
Nick: Rhubarb, strawberries, blackberries, raspberries, broad beans, spinach, Swiss chard, beetroot, leeks and cabbages.
Some of the spoils from last year's carrot crop.
Some of the seedlings are started inside until they are strong enough to be planted outside.
What plans do you have for the garden in the future?
Nick: Ron is our creative director so no idea, last rumour I heard was chickens! With Ron the sky really is the limit but I know he wants some funds to finish the seating area off.
Ron: To get more funding so we can get the Weird Fish garden a silver or gold award from Cheltenham in Bloom, with time and hard work we will get there .
We have found a great use for the few odd Weird Fish wellies we have about the place.
Ron spends most of his lunch breaks tending to the garden and giving the rest of us tips on gardening.
Do we have any wild life?
Ron: A pair of nesting blue tits in the bird box I made last year so very happy about that. A robin who will actually feed from my hand. We also have a fox living in the yard, but he likes to dig things up.
Nick: Ron is now the birdman of the car park having rescued a baby black bird last year and taking it home and rearing it until it could fend for itself.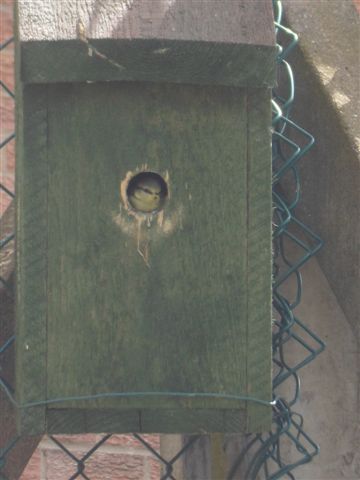 A slightly grainy image of one of Ron's nesting Blue Tits.
Tell us about Cheltenham in Bloom.
Ron: They are a local committee who are devoted to keeping Cheltenham looking great through horticultural excellence. It is for every day people who like gardening, to make where you live or work a more pleasurable place.
Two years ago our neighbours in the industrial estate nominated us, we won a merit and last year we won a bronze award.
Ron receiving his Cheltenham in Bloom award
Any tips for people without a garden or limited outdoor space?
Nick: Yes get yourself a Ron! Or things like herbs, cherry tomatoes and of course flowers can be all grown in pots in the garden or indoors on window seals. So there is no real excuse not to try it yourself. It's very satisfying to eat something you have nurtured from a seed to a healthy and vibrant plant.
Ron: Tomatoes are good, I also have a potatoes box and a patio apple and pear tree, raspberries and a blackberry So any size pot will do, buckets watering cans, pop bottles with the top cut of anything that will hold compost. Remember to drill some holes for drainage good luck!
You can use pretty much anything to pot plants in, use your imagination.
Keep an eye on our social pages to see how our Weird Fish garden continues to grow.