Hero of the Month - October 2016
October 31, 2016
Each month we are picking someone we feel deserves some recognition, be they an established celebrity, or more of a local celeb – We want to thank these everyday heroes for the things they have achieved.
Autumn is well and truly with us now, and we are gearing ourselves up for the brilliant autumn festival; bonfire night! With this in mind this month we have spoken to Karl Thorpe from a company called "
The Round Table
" who organise the Cheltenham Racecourse Fireworks display every year.
A good fireworks display is no mean feat. There is so much involved, from choosing the fireworks, to picking your venue and making it safe for the watchers. In our hometown of Cheltenham the racecourse fireworks are always a well attended event, and we were interested to find out where you begin putting on a huge show like this.
How long have the Round Table been organising the Cheltenham Racecourse Fireworks?

In its current format, for over 30 years now.
Where do you start when it comes to planning a fireworks display?

Fortunately, having arranged the event for so many years now, it's not as convoluted as it may seem.  Historically, a file was passed to the Event Organiser who then went about contacting those who had previously helped.  Nowadays everything is electronic, so as soon as the event is finished one year, all the concessions, fun fair, fireworks company etc are emailed the week after to secure their services the following year.  Plus, we are extremely fortunate in that we have an ongoing agreement with he racecourse to use their facilities the Saturday nearest to the 5th November.
The most time-intensive element of the planning however is ensuring crowd safety.  Fortunately, we have had no major incidents at our display, but due to the culture we now have, we have to plan for all worst case scenarios and we work closely with the Cheltenham Borough Council Safety Advisory Group on this.    If starting to plan such an event from scratch, the site would be the first thing to sort and the hardest.  We are really lucky to have the racecourse to use and to have had their support for so many years now.
How do you decide what kinds of fireworks to use?

We don't fortunately!  Skyburst have supported us for years now and as it's a charitable event, they give us a phenomenal display at a discount.  They give us the biggest and best fireworks they can for our budget!
How is the sequence actually created?

We give them a theme and creative freedom to blow the audiences socks off!!
Is everything timed so people have to light fuses at just the right moment?

No fuse lighting anymore, its all done with computers to sync with music etc.  Much safer and more reliable!!
Where do all the cartridges go? Do you have to send a tram out to collect all the used firework tubes? Some must travel quiet far.

Skyburst plan a 'drop zone' for the fireworks so they safely fall to ground away from the crowds.  If the winds change, they can change the angle of which the fireworks are fired.  They then clear them all up the morning after for us!  Problem solved…..
How did you decide on the Midlands Air Ambulance as this year's charity.

The MAA is a great charity that unbeknownst by the masses, is entirely self funded with no government subsidies.  As it is their 25th anniversary this year, it seemed a great opportunity to work with them. Anyone in the area may need these people as the "4th emergency service" and it costs £2,500 per mission for them to come out.  If we can help save some lives then it will all have been worth it!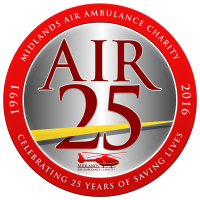 Do you know how much has been raised for charities over the years?

Literally hundreds of thousands of pounds.
Which other local charities will be supported this year?

After the event, we will meet up and discuss all applications we have had for financial support.  We have already helped fund a trailer for a local scouts group who support our fireworks event and Christmas floats every year.
Do you have any tips for people using fireworks themselves?

DON'T.  Attend a proper, safe organized event instead!!!
Every year
The Round Table
nominate a different charity to raise funds for, this year they have nominated the Midlands Air Ambulance, and here are a few of the other local charities they have supported and raised hundreds of thousands of pounds for:


The Third Sector


St Vincents  School


Acorns Charity


Cheltenham General Special Baby Care Unit


Cheltenham Saracens Powered wheelchair football


Charity "Win a mini bus" competition (Cheltenham Echo £15k pledged) – Live at present in the Echo


Winstons Wish


Winchcombe School


The Air Cadets


The Samaritans


The Freewheelers Emergency Voluntary Service


The Brain Tumour Charity


Gloucester General Hospital…


Various local individuals in need


WHEN? – Saturday, 5 November 2016 from 17:00 to 23:00 (GMT)
WHERE? – Cheltenham Racecourse – Evesham Road, Prestbury, GL50 4SH
It is £6 on the door for adults, £4 for children or purchase your family ticket in advance: 2 adults and 2 children £15 (plus booking fee).
To buy tickets for this fireworks show you can here: 
www.eventbrite.co.uk/e/cheltenham-round-table-fireworks-extravaganza-tickets-27537802308
Gates open at 17:00, with the display kicking off at 19:00.
We hope everyone has fun this 5th November, be safe and don't forget your gloves.