Hero of the Month - November 2016
November 17, 2016
Each month we are picking someone we feel deserves some recognition, be they an established celebrity, or more of a local celeb – We want to thank these everyday heroes for the things they have achieved.
This month we have spoken to wildlife photographer
Jack Perks
.
Jack has a huge passion for British wildlife and has always held a certain interest for freshwater fish.
Jack has written and photographically illustrated dozens of articles for magazines such as Outdoor Photography and BBC Wildlife. He runs private photo workshops and short courses on wildlife photography with Nottingham Trent
University and is also a lecturer for the MSc Biological Photography and Imaging course at the University of Nottingham. His work is often featured on various BBC nature shows, including Springwatch, Countryfile and The Great British Year.
How long have you been into wildlife photography?

I started in 2007 but didn't go professional until I left university in 2012. Since then I have been all over the country for just about everything you can think of; from scuba diving with salmon in Dartmoor, to climbing cliffs in Shetland to photograph puffins.
You seem to have a love of photographing fish and reptiles, is there something about them you find more alluring that the usual more cuddly creatures?

I guess it stems from being a kid, catching tadpoles and sticklebacks in ice cream tubs, being fascinated with them and not understanding why everyone else wasn't. I went on to keep lots of snakes, geckos, salamanders, you name it! Then turning my attention to what we already have in the British countryside. It's the fact that they are often misunderstood and even neglected, I really enjoy showing them off and highlight them to others.
Eel
Dace
What kind of equipment do you need to capture some of the amazing shots you get?
I primarily use Nikon for my photography and to get the underwater images I have a Ikelite housing that encases the camera and stops things from getting wet. There's a big misconception that you have to use a big expensive camera to get great shots, but you can produce some spectacular images with a smart phone, then you have the added bonus of being able to share them almost instantly.
We first spoke when you were championing the UK national fish vote, can you our readers more about this?
We had a website running with the vote though now its finished it's closed, however their is loads of content online from various other websites about the vote so give it a search online, the brown trout in case anyone was wondering!
Can you tell us about any other projects and work you are proud of?
I successfully funded a film called 'Beneath the waterline' via Kickstarter, (a crowd funding website) to try and film all of the UK freshwater fish. The film is available online to watch for a small fee, or buy a DVD. The filming for the BBC has always been a pleasure for me, from appearing on Springwatch with Michaela Strachan to Talking about my local patch on Countryfile.
Jack was wearing our Finness T-Shirt when he spoke to Michaela about the National Fish Vote.
You are always very busy doing lots of talks all over the country, what kind of things do you offer in your talks?
I mostly do talks on wildlife, photography or a mixture of the two. I tend to stick to the East Midlands but have done talks in Glasgow, Cornwall and London.
You are bringing out a new book in November, can you tell us about it?
This is my first book and have to say I am really pleased with how its turned out. New Holland (the publishers) gave me a lot of creative freedom to pretty much do what I liked, which is unusual for a traditional publisher. It's called "Freshwater Fishes of Britain" and features large underwater images of fish, with the essential facts for identification, along with quirky and interesting tidbits. It also has bonus chapters on subjects such as the oddities that turn up, for example the albion lamprey and pacific salmon, as well as how I actually go about filming and photographing the fish.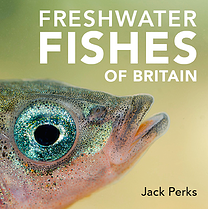 Freshwater Fishes of Britain is illustrated with at least one photograph of each species, from the predatory Pike to the graceful Grayling and is accompanied by a brief description of the fish, including details of their distinguishing features, habitat, breeding and much more.
Jack uses specialist underwater photography methods involving long and super macro lenses to showcase images of freshwater fish in a new light.
With facts throughout, such as why the Tench is sometimes called the 'doctor fish' or why Bitterling lay their eggs inside a living Swan Mussel, Freshwater Fishes of Britain by Jack Perks covers almost every British species and is sure to appeal to both naturalists and anglers across the country.
Where can people find your book?
You can buy directly from New Holland but its widely available from most book stores like Waterstones and Amazon online.
What is your favourite fish?
For me you can't beat the grayling aka the lady of the stream, it is such a exotic looking fish yet they can be found throughout the UK in clean rivers. Their Latin name is Thymallus Thymallus which is due to them smelling of the herb thyme.
While photographing the fish in the river I suddenly saw this smiling face looking at me in the form of this grayling.
How do you enjoy the weekend?
Getting out by the river and taking it all in. A bad day by the river is better than a good day in the office!