Hero of the Month - June 2016
July 01, 2016
Each month we are picking someone we feel deserves some recognition, be they an established celebrity, or more of a local celeb – We want to thank these everyday heroes for the things they have achieved.
This month we have picked the brave men and women at the
Rye Harbour Lifeboat Station
.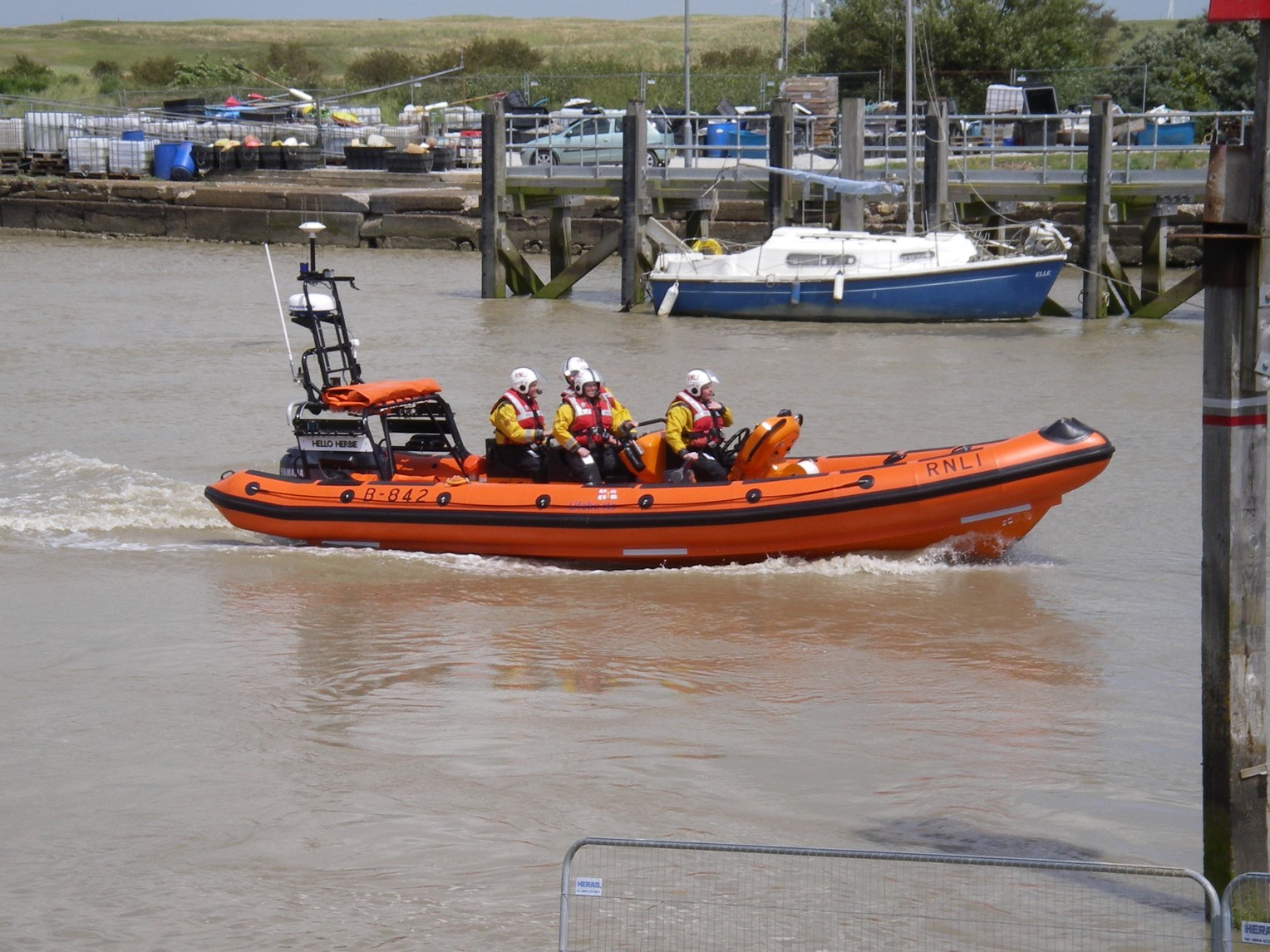 Meet the Crew:
Tony Peters (Crew, Ex Designate Helm & Education Officer):
Member for 14 years. Joined
because his Dad was an Ex Helm at Brighton and had friends already serving in Rye.
"No day is the same. we are volunteers so I can be getting ready for work and the pager will go. Within minutes I am at sea. I have missed many meals and spent many nights at sea when others are sleeping".
"I work for Her Majesties Courts service. Performance and improvement manager for the south east region".
"It is so hard to choose my best experience since working for the RNLI . I have dismantled boats and been under a capsized sailing dingy off of the harbour entrance. Things like that are personal experiences not many people get to face so it makes me proud to take the challenges but ultimately it is always saving lives and seeing those in need smile on a safe return".

Richard Tollet (Operations Manager & Ex Helm):
Member for 47 years because friends and family were already serving.
"A typical day is like any other, but the best experience was saving someone's life"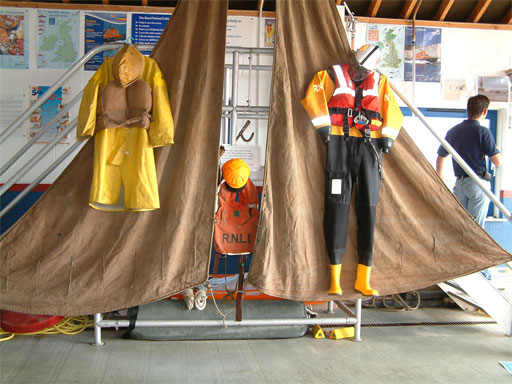 Some of the suits and equipment.
Alissia Mathews (Trainee Crew): Serving for 6 months so far. "I was encouraged to pursue this profession because I wanted a challenge adventure and to work as a team".
Alissia has finished college and currently looking for full time work as well as giving time to the RNLI. "No day is the same, the best experiences are the challenges I get to face".
Sharon Gozan (Crew, Ex Designate Helm & Education Officer): Member for 9 years. "I joined up for an altruistic, mentally and physically challenging experience. Each day is unpredictable, never knowing what we are being called out to until we arrive at the station.
"The best experience I have had was rescuing a young black Labrador called Marmite who was swimming out to sea. I was the helm and the response from the family was great. It makes you realise the difference you can make".
Sharon is an interior designer for her day job.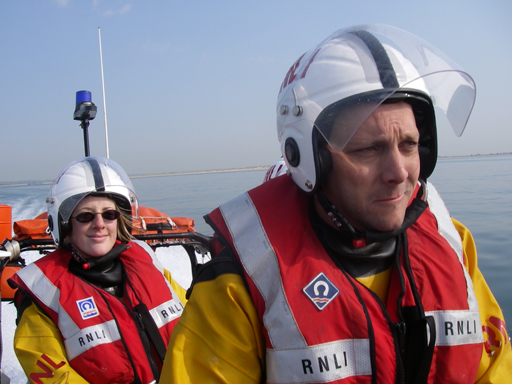 Tony Edwards (Deputy Launching): Member for 34 years due to wanting to work with like minded people.
"No two days are the same, but the best experiences I have had are saving children"
Tony is an engineering administrator the rest of the time.
Luke Higgins (Trainee Crew): Serving for 5 months so far.
"I have always had a keen interest in the RNLI from a young age. I come from a sea faring family".
"I am always learning, no situation if ever the same. The best thing about being in the RNLI is the excitement and team spirit. To help save lives and increase awareness of sea safety".
When he isn't at Rye Harbour Luke is a merchant seaman (Deep sea for 12 years and 6 years on ferries)
Steve Brown (Senior Tractor Driver & Mechanic): Member for 26 years due to an interest in the sea. Every day is different for this lorry driver. "The best thing about being in the RNLI is the knowledge that you helped others".
Jai Gudgion (Helm, Training Coordinator & Full Time Helm at Tower Lifeboat Station): Member for 18 years. "My family members have always been involved in the RNLI, so I was interested from a young age".
"A typical day requires a lot of training and commitment, but it is very rewarding. The best experience I have had is saving someone's life".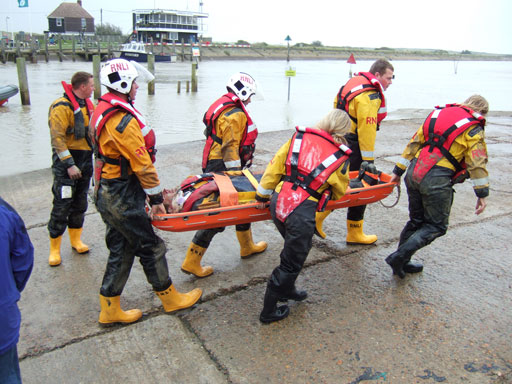 James Guin (Helm & Boat Mechanic): Member for 10 years and is a fisherman in his day to day life. "Being in the maritime industry I thought I would like to give something back to help fellow sea farers. It is exciting not knowing what scenario you will face everyday. We train over & over so we can deal with every eventuality".
"There are lots of good experiences, from helping children blown out to sea on lilos to towing in broken down boats. The look on peoples faces when they see you coming to help is priceless".
Isabel Sharp (Trainee Crew): Full time estate agent who has been training in the RNLI for 8 Months. "I joined to help the community. The best experience I have had so far was a night shout for a missing person. We worked with helicopter support and the casualty was found safely".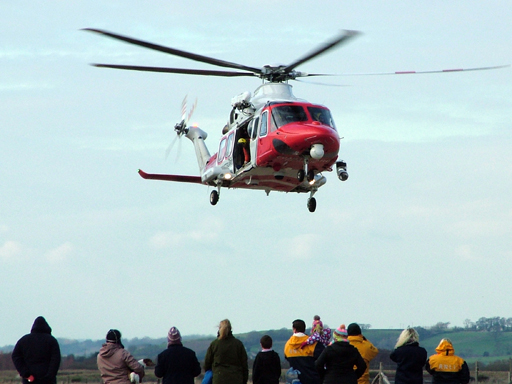 Micheal Byrne (Designate Helm): Member for 9 years. "I joined the RNLI to help others and give something back to the community. Every shout we go out on is different, and there are so many great experiences it is unfair to single out just one.
Micheal owns his own sound and lighting company.
Andrew Tollet (Deputy Launching Authority & Ex Helm): A local builder who has been a member for 34 years. "An average day is normal until our pagers alert us for an incoming call. It could be any form of job, the list is endless. Each one is a challenge with mostly happy outcomes. But at the end of the day we can say we have done our best. It is great knowing we have made an impact on somebodies life".
Trevor Bryant (Helm): Member for 31 years. "I am a fisherman and already had friends that were serving as RNLI crew, so I signed up. There is no typical day, we never know what or who we are responding to. It is the best experience every time you save a life.
Jay Beckett (Trainee Crew): In training for the past 10 months. " I joined as I wanted to make a difference, every day is exciting and I love working with helicopters when I am not in my every day job as an electrician".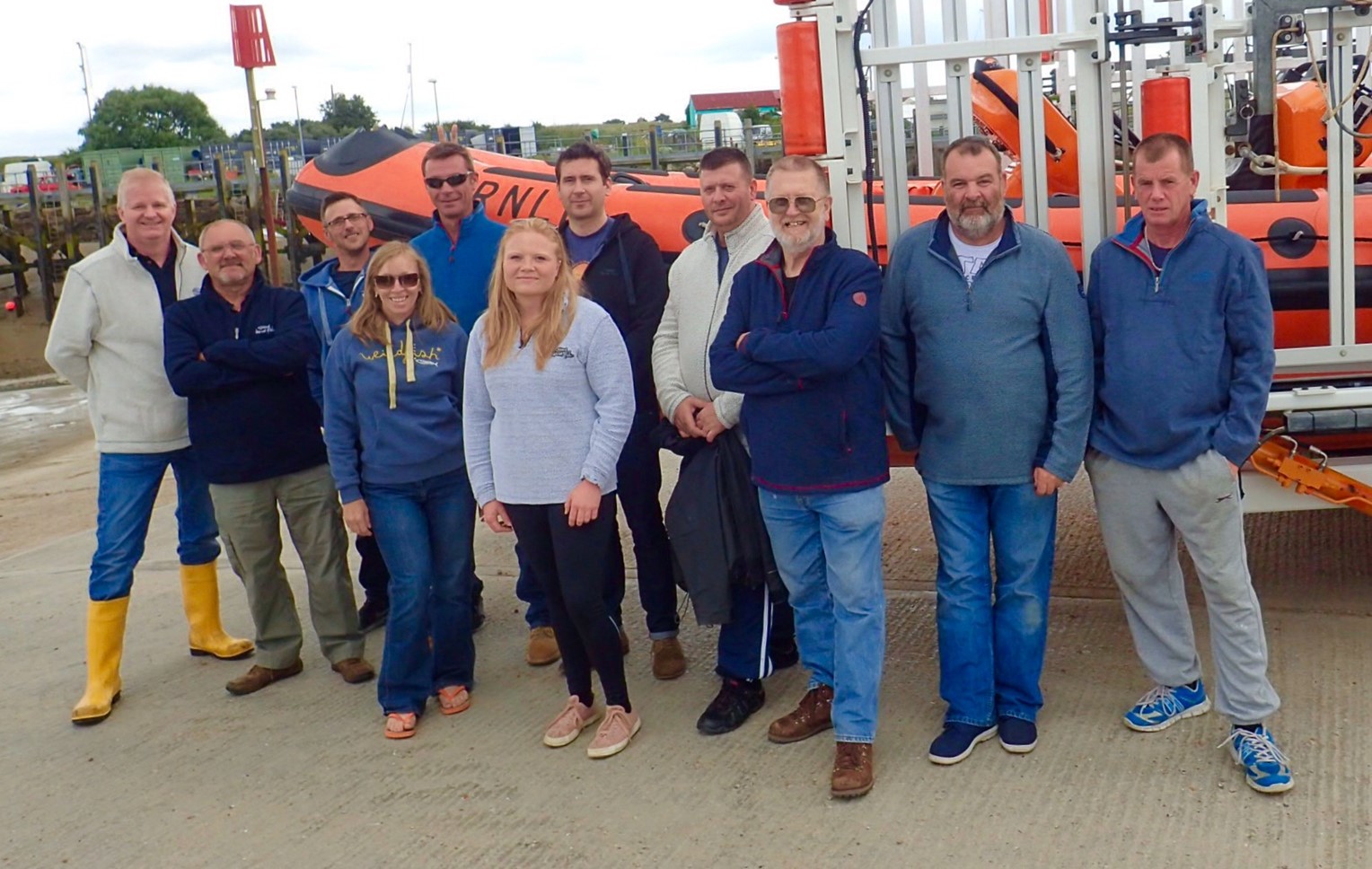 We sent the team some Weird Fish goodies to say thank you.
How long has Rye Harbour lifeboat station been in operation?
A station was established in 1803 when one of Gateshead's lifeboats was sent here. In 1833 the station was taken over by the institution.
In 1928 the biggest singular lifeboat disaster happened at Rye harbour. The entire crew of 17 drowned while on service to a vessel called "Alice" of Riga. The station was then closed until 1966 when the station was re opened.
How often do you have to launch?
On service we launch anywhere from 20 to 30 times a year. We are on call 365 days a year.
We Train Sunday mornings, Monday nights and Thursday nights. Dependent on tidal conditions the boat will then also be taken to sea. If we are not at sea for practical sessions we train on such things as navigation, first aid, rope work (the list could go on and on)
Time also has to be spent training new recruits.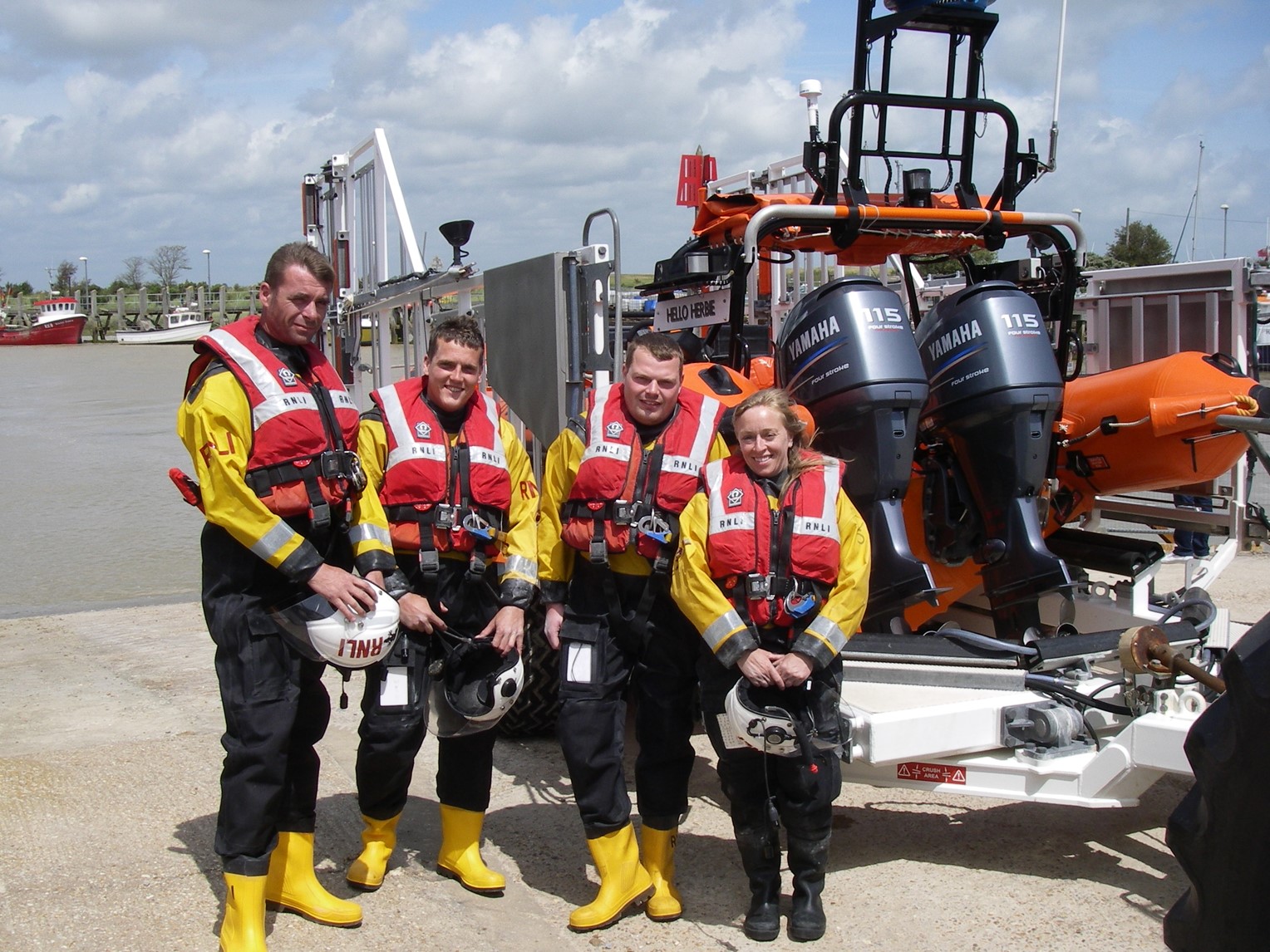 How many work at the station?
That is not the easiest question. Operationally (work focusing on the boat going to sea and duties attached) there are about 26 of us. We then have fund raisers a press officer, Chairman and education officers - most of whom are crew.
What do you do when your not saving lives?
We spend a huge amount of time training. But as volunteers we also have normal working lives like everyone else. However our pagers are always on and many of us leave work to go on shouts and make up the time on our return. Tony Peters said, "I have ruined many a good suit while cleaning the boat down after a shout. It does have an impact on our personal lives. I have lost count of the BBQs and meals out where I have left because we have got a job.
Sharon Gozna (crew) and myself are getting married on the 9th July 2016 and we are dreading the pagers going off as although we may not go we may lose a fair few guests".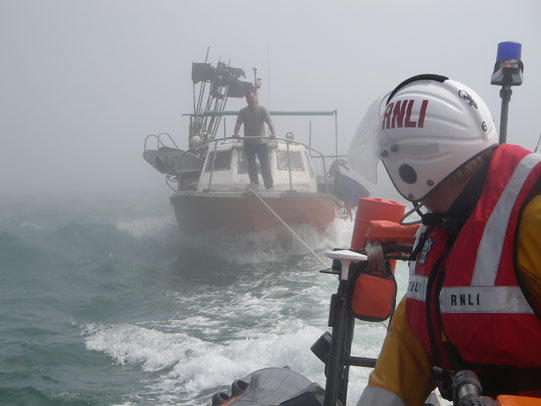 What other jobs are there to do around the station?
There is always something to do and positions to fill.
We spend a massive amount of time cleaning and polishing. As you can imagine we launch anytime, winter or summer, and the cleaning has to equally be done. We therefore, buy durable hard wearing clothes that also look good. Over the years Tony Peters has bought several Weird Fish tops, "I love how hard wearing and warm they are".
We have to maintain the equipment daily. Our dry suits often need seals replaced, the list goes on.
Sharon and Tony.Peters take time off of work and also give talks at schools and clubs while other crewmen's wives and partners fundraiser and open the souvenir shop. (The crew also get involved in fundraising)
The RNLI is run on the public's donations. They are not government funded.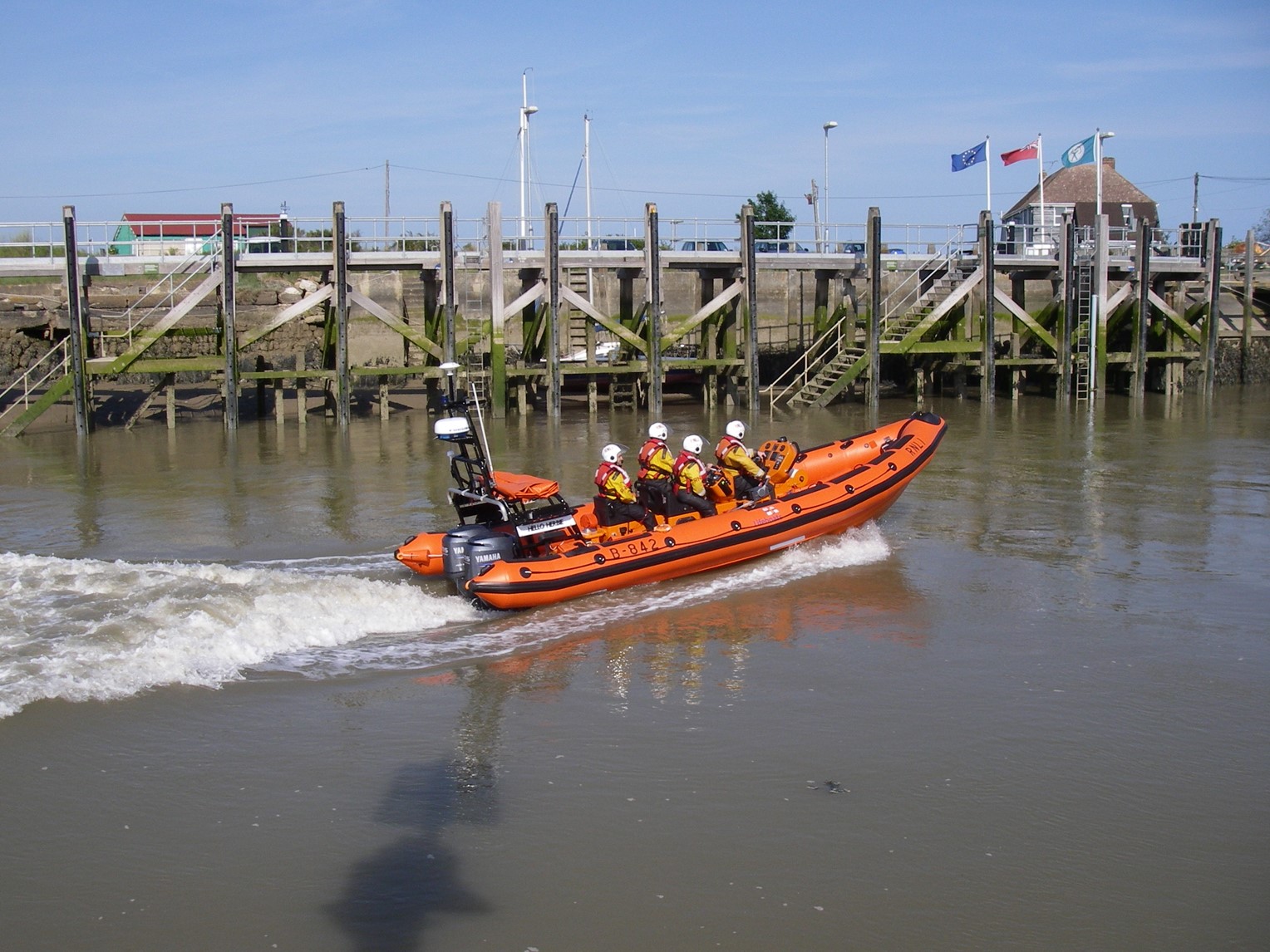 A story from Tony Peters:
"Several years ago Steve Brown, his wife Jean and son Joe (who is now crew) came to my house on the evening of boxing day. We spent the day cooking etc. On their arrival at 6pm we opened some Champagne. Before I had finished pouring the drinks the pagers were sounding. We left for the station and I told them they had to stay at my house as I did not know where my keys were. We spent the evening searching for a person in trouble in the water. This turned out to be a false alarm. We got home at 11pm. However the whole crew went home and got their partners and joined us at my house for a bigger party than we expected. We truly are one big family".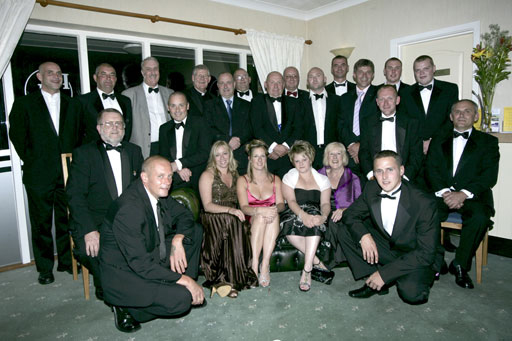 Late Summer Ball 2007
We are proud to call the members of the Rye Harbour Lifeboat Station our heroes this month. They risk their lives every time they go out to save countless others. Hats off to them and all RNLI members across the country.
If you would like to donate towards the RNLI please visit their website.