Hero of the Month February 2019
February 28, 2019
February has come around quickly and we are back with our second Hero of the Month for 2019. Each month we celebrate the weird and wonderful, from people who are key fundraisers in their community, to people with the coolest jobs. People that go outside the norm, swim against the shoal if you will, and do something fun or extraordinary.
This month, we feature
John Hammond
, serial marathon runner and big time fundraiser from the Wirral. We came across John on Twitter when we saw that he was training for a John O Groats to Lands End run. He's aiming to raise £10,000 for five charities. After some further digging, we realised this isn't the first, (and certainly doesn't seem to be the last) crazy run he's done in the name of raising money.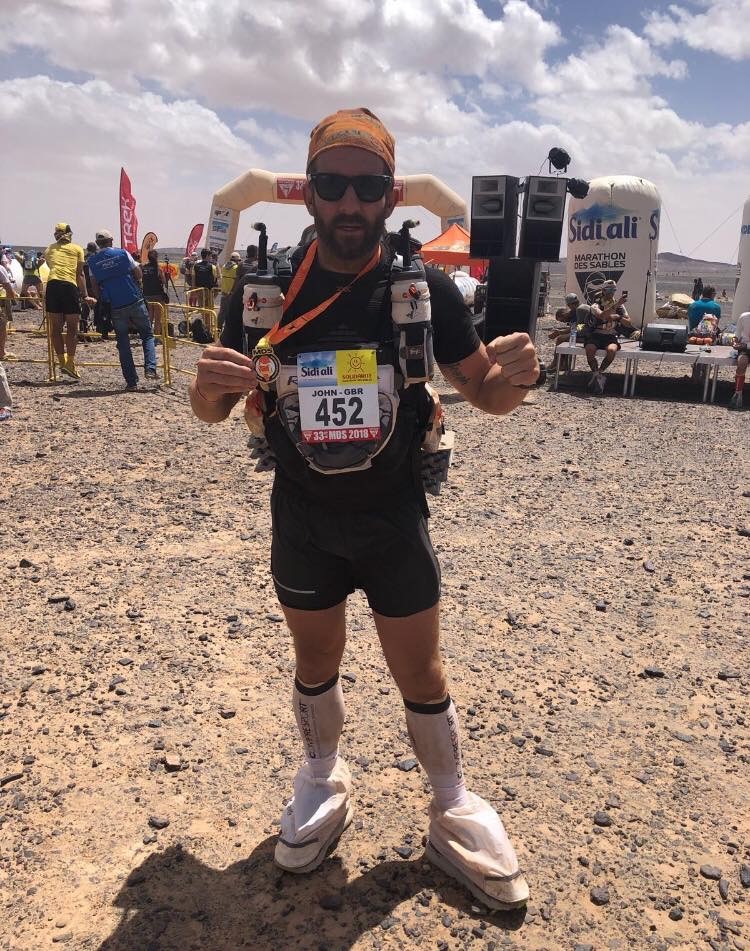 John after finishing the Marathon Des Sables in 2018
John started fundraising when he began running in the London marathons but soon decided to raise money for charity more frequently. He has raised over £100,000 for various charities over the past 6/7 years. We loved his story and it was his dedication and determination that gained him our Hero of the Month status. Congratulations John!
When did you first get into running? Have you always been into fitness?
I've always played football, I played a lot for my local teams at the weekend, and got into running through that, I ran my first marathon in 2012. From there it just escalated, I ran a few marathons in the next 12 months following that. Over the next few years I was really focused on joining the 100 marathon club where you have to run 100 official marathons, so that was my goal for a while. The older I get the more into running I get, and actually haven't kicked a ball around in years now.
What encouraged you to start fundraising?
I ran a couple of London Marathons a couple of years in a row so that started it really, I was fundraising just once a year for a named charity, but what I do nowadays is a lot more of my own stuff. I really enjoyed making a difference so this really encouraged me to do more. I've started to build a community with local running groups, and others who join in and help too. Over the last 12 months we've been raising money for two local girls, who have sadly passed away now, who both had a very rare brain tumour. The whole community really came together and rallied, we've done quite a lot of runs for them and raised a lot of money. Over the years it's just grown and grown. The secret to fundraising successfully is getting people involved, originally when I was running the London Marathon a few people would donate a bit here and there, but getting people involved with you makes them feel a part of it, so you find you raise a lot more. We've done a treadmill challenge with three treadmills, I ran on the middle one and others joined either side of me, people could pop on for half an hour or however long, so anyone could get involved. We ran a marathon every day for 7 days.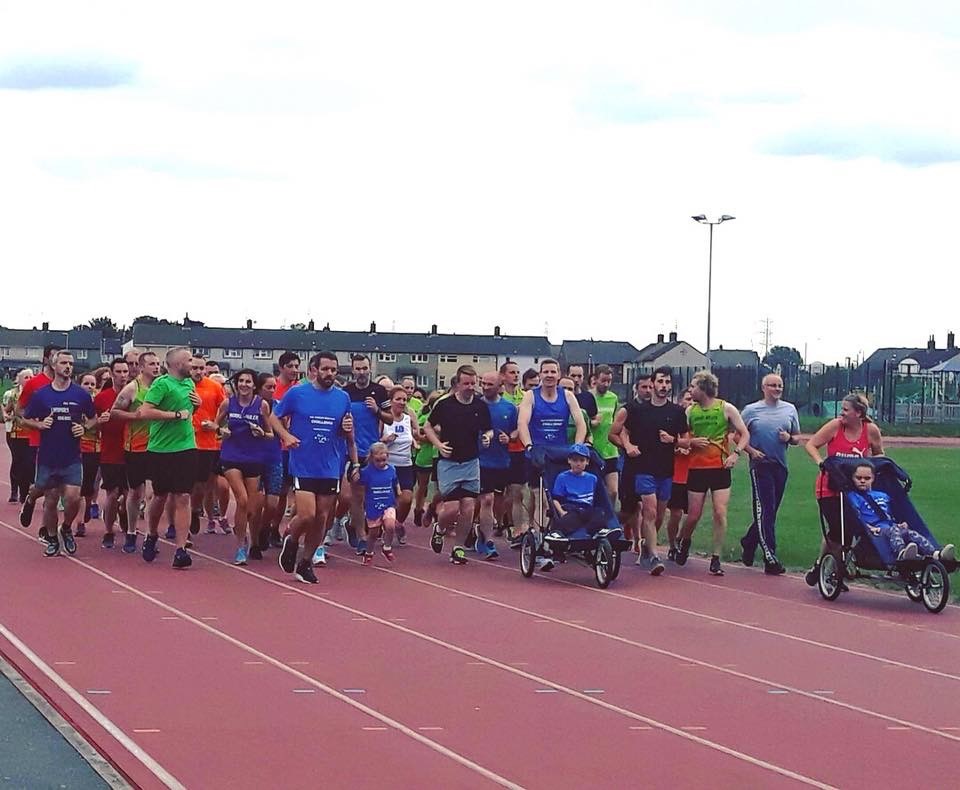 Day 1 of the running challenge. They raised over £10,000 for the Ben's Buggy Runs charity. John ran 1 mile on day one, 2 miles on day two and so on until reaching 31 miles on day 31.
How do you decide who to raise money for?
I always fundraise for different causes, not necessarily just charities. I find a lot of the causes in the local paper, if I see something sad that has happened, and I feel that I could do something to help, I'll start fundraising for them. For example, the paper once covered a story about a family that lost both their parents in a very short period of time, so we organised a 12 hour run to raise money for them.
When training, what is the most essential thing to have?
Aside from the energy drinks, it's knowing what's at the end of it all and remembering what I'm doing it for. I would also say company, running with others and doing this as a community has become really important to me. I'm currently looking to get some people involved to come out and train with me for the John O Groats to Lands End run.
What is your favourite, stand out moment from all the running and fundraising you've done?
Personal achievement wise, running 250k over five days in the Sahara Desert was one of the toughest things I've ever done, and completed. It is the fundraising that gives me more of a boost though really. What we did it to raise money for the two young girls from the Wirral, Edie and Lucy, who had a rare brain tumour, it was a real achievement. The way the community really came together to help as much as possible was really amazing.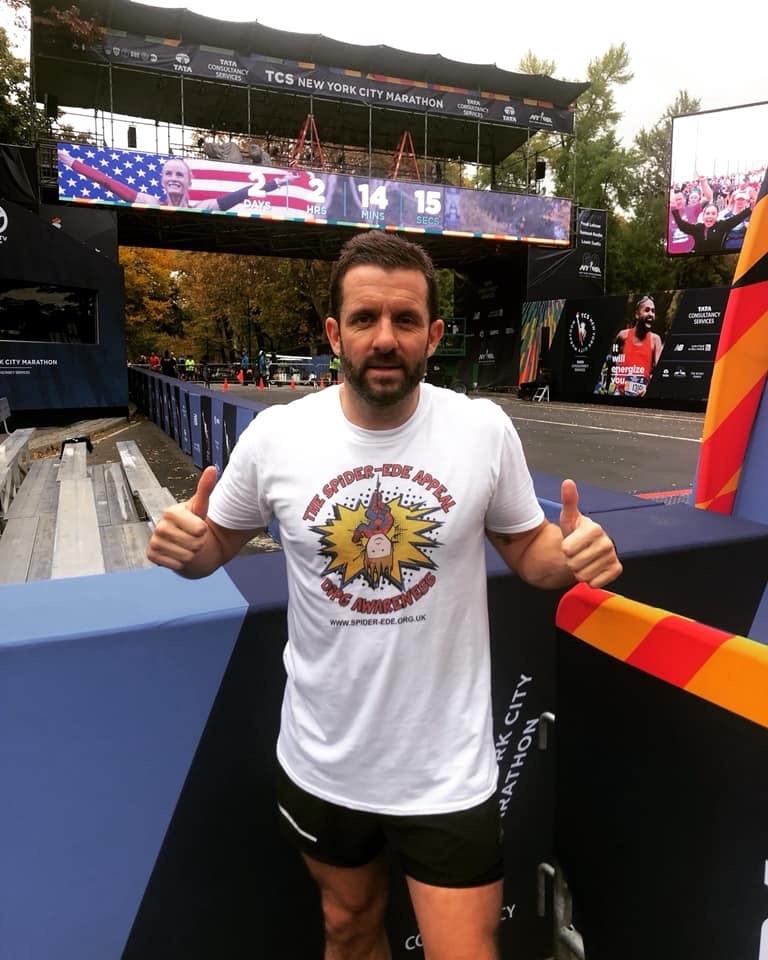 John at the New York marathon wearing a Spider-Ede T-Shirt, in memory of a little girl called Edie he had raised money for but sadly passed away.
What advice would you give to people who might want to start running and fundraising like you?
If you are thinking of starting running and fundraising, definitely do it. I can see the difference it makes in people, not only physically but mentally too, getting outside, getting some fresh air and doing some exercise. The hardest part is starting and pushing yourself to get out, but it's so rewarding.
And finally, what's the best thing about being outdoors?
The freedom, when you're running you can go anywhere. You're free and you can get some peace of mind.
If you would like to learn more about John's fundraising and get involved or donate, you can read more on his Twitter page:
https://twitter.com/johnammo29