Hero of the Month - April 2016
April 27, 2016
Each month we are picking someone we feel deserves some recognition, be they an established celebrity, or more of a local celeb – We want to thank these everyday heroes for the things they have achieved.
This month we looked close to home and have picked Ron Morris from Weird Fish Head Office. Some of you may be familiar with Ron, he is not only a fantastic member of the Distribution Centre team, but in his own time he also co-created, and painstakingly maintains the
Weird Fish Car Park Garden
.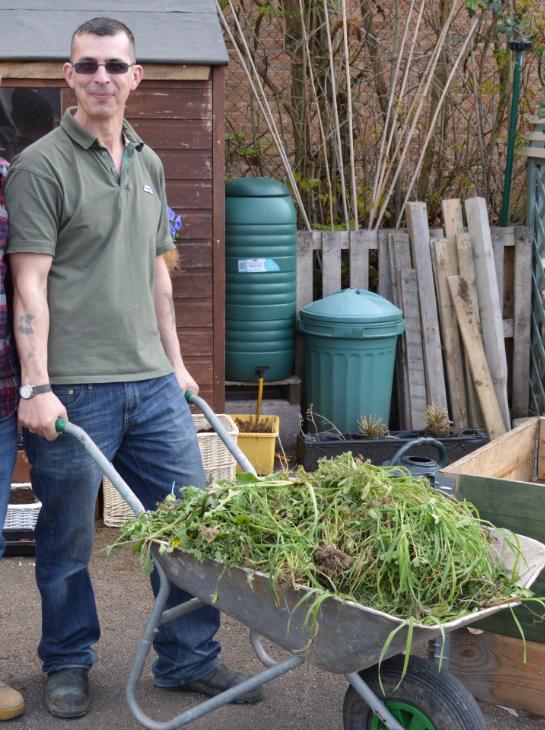 How long have you worked for Weird Fish?

I have worked for Weird Fish for about five lovely years
How did you first get into creating the Weird Fish car park garden?

When I first saw Nick (our Distribution Centre Manager) planting some beans in a overgrown patch of land about 4ft by 80ft long. There was nowhere for the staff to sit and enjoy their lunch breaks, so I knew I had to help.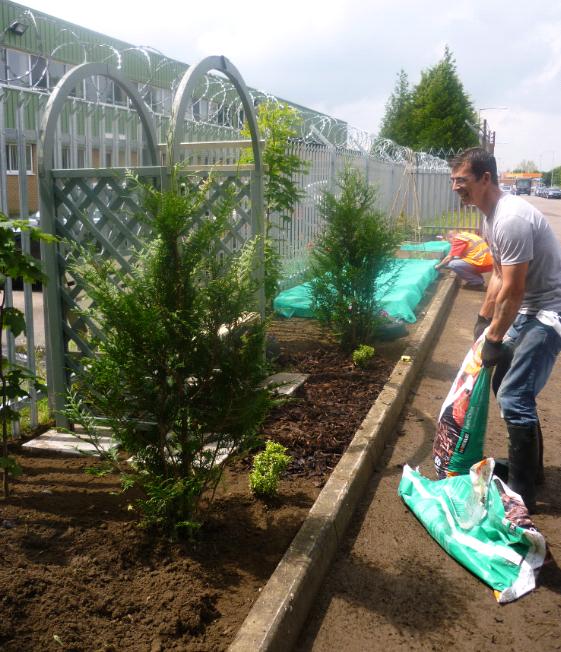 Have you always been into gardening?

Yes since an early age I lived with my Gran and Granddad. My Granddad got me in to gardening when I was about six or seven years old.
The pond made out of a bath tub is brilliant, what other areas can you tell us about in the garden?

Well I have just started our wild life pond for frogs, newts and other insects like pond snails and boatmen. If these were in the main pond they would be eaten in the fish. (You can read more about the main pond here, it is made out of an old bath tub). Also with the sponsorship of one of our stockists Haskin's Garden Centre, I have started a wild flower garden .
The garden is now award winning, can you tell us all about Cheltenham in Bloom and what awards you have won over the years?

Cheltenham in Bloom is a committee set up in Cheltenham (and many other towns) to raise awareness of the town's floral heritage. Local businesses and public land owners get involved to celebrate the town's beauty, plus it makes Cheltenham a more attractive, colourful place to live.
I first entered for their awards in 2012 and managed to win a merit, in 2013 we got bronze, 2014 we won won silver and received an outstanding achievement award, then in 2015 we finally won the gold and were able to keep the anniversary cup for that year. So everything seems to be going in the right direction, fingers crossed this year we can keep hold of our gold status.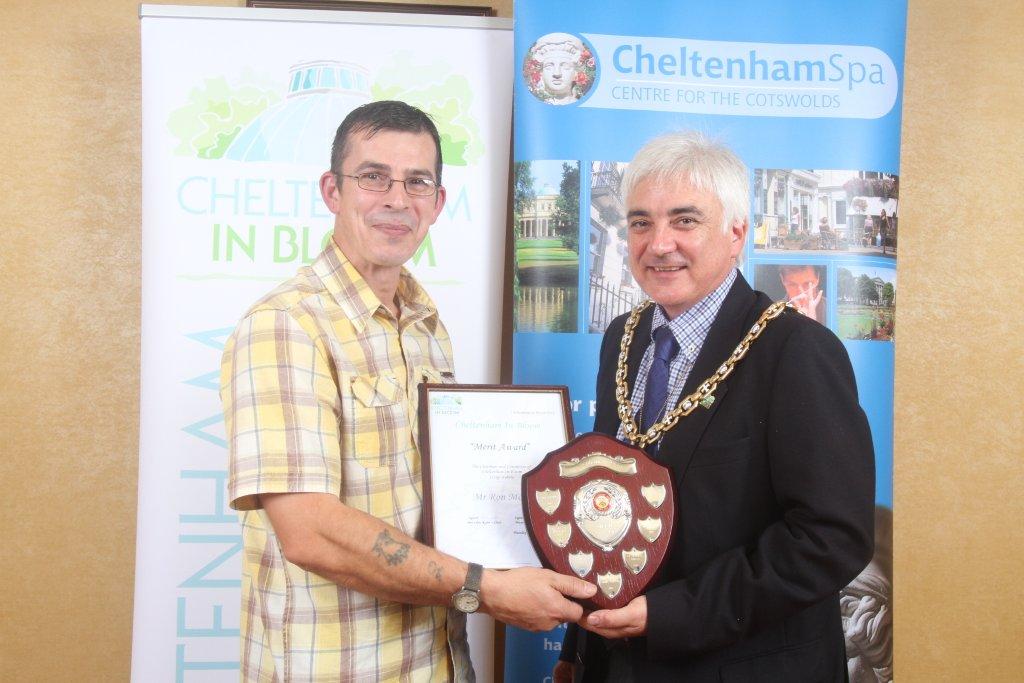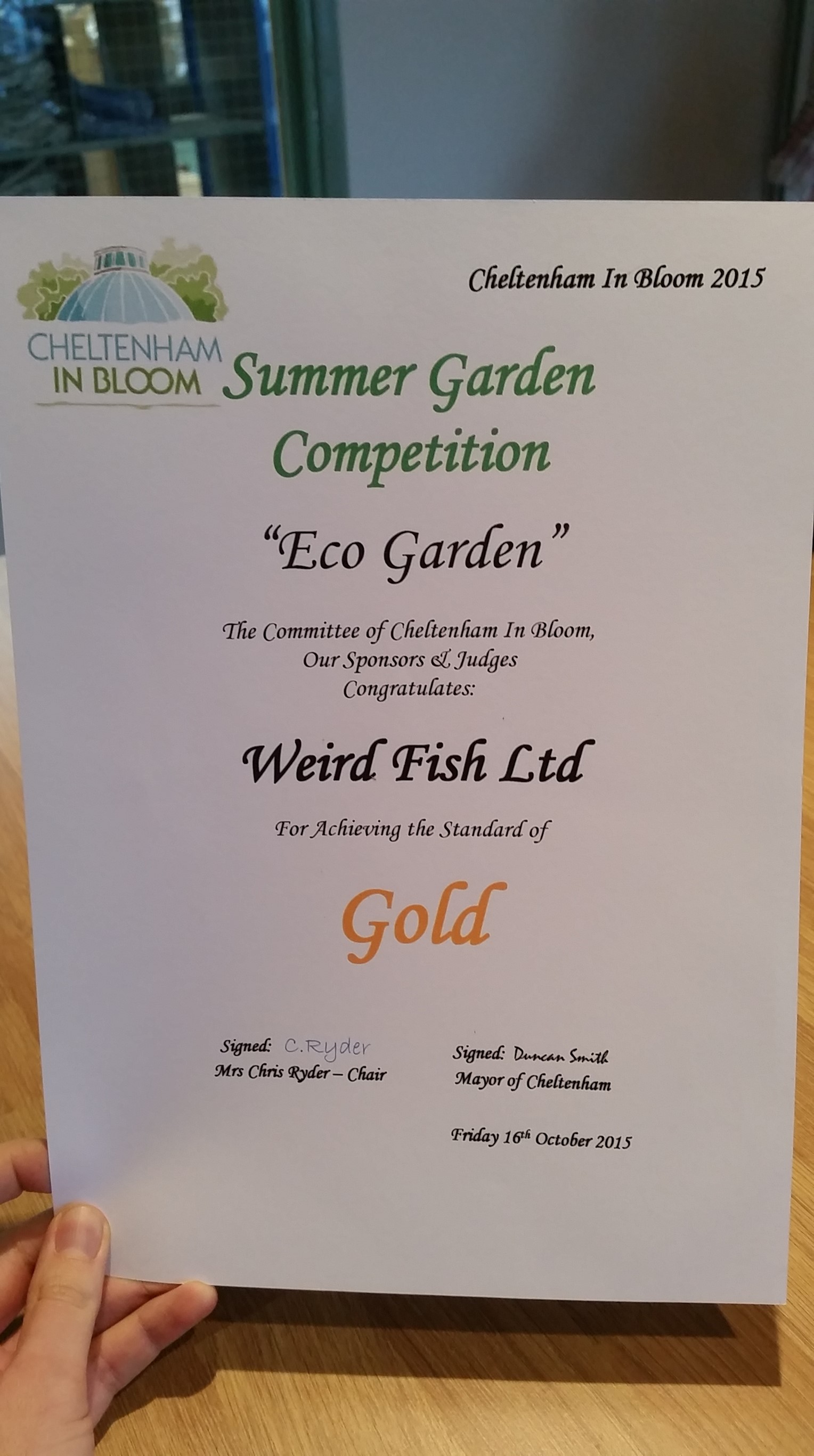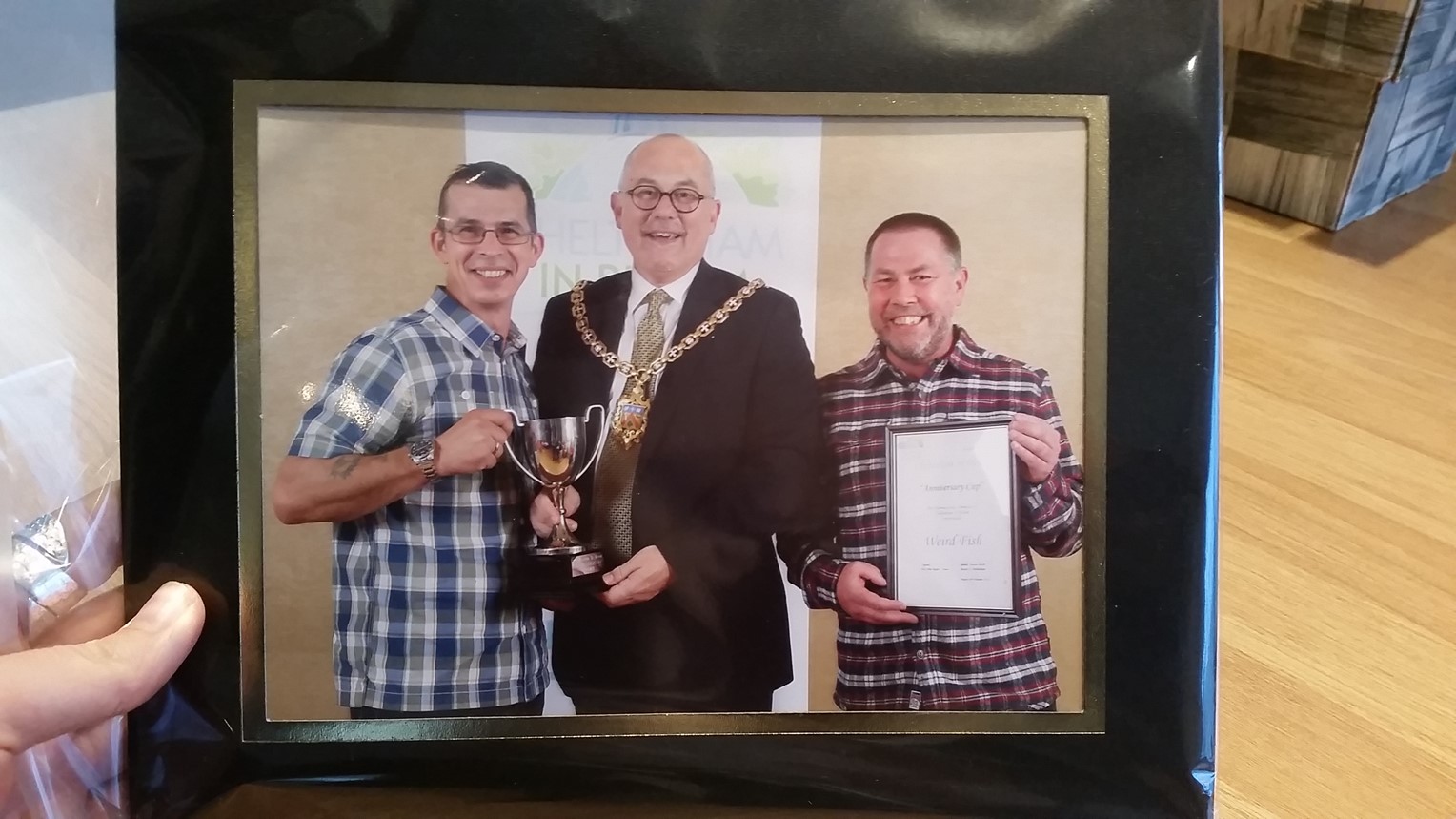 Ron and Nick proudly receiving one of their many awards.
You also have a larger allotment plot around the other side of the Weird Fish HQ, what do you have growing in there?
Well we have five varieties of potatoes , red and white onions then there will be cabbages, peas and garlic. We have just put up a poly tunnel, so soon we will have chillies, cucumbers, and tomatoes.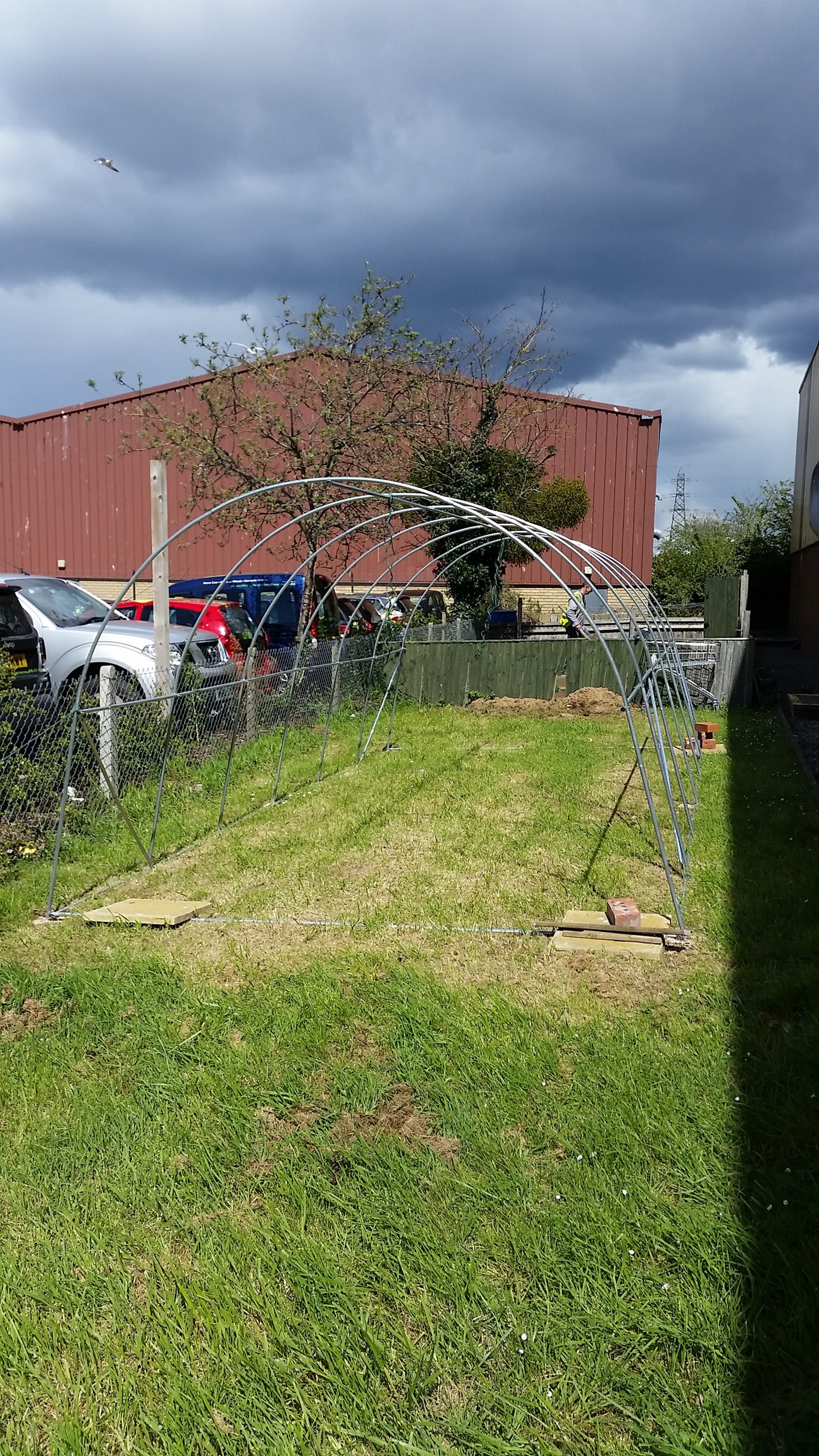 The poly tunnel frame, getting it set up for Spring planting.
You are very resourceful with some of the features in the garden, can you tell us about some of the recycled objects you have used? Where they came from and where you get the inspiration to create them into something new?
I like to try and use things people don't want anymore, I have used things like a chandelier I was given by another member of staff from their house, I turned this into a sort of hanging basket feature.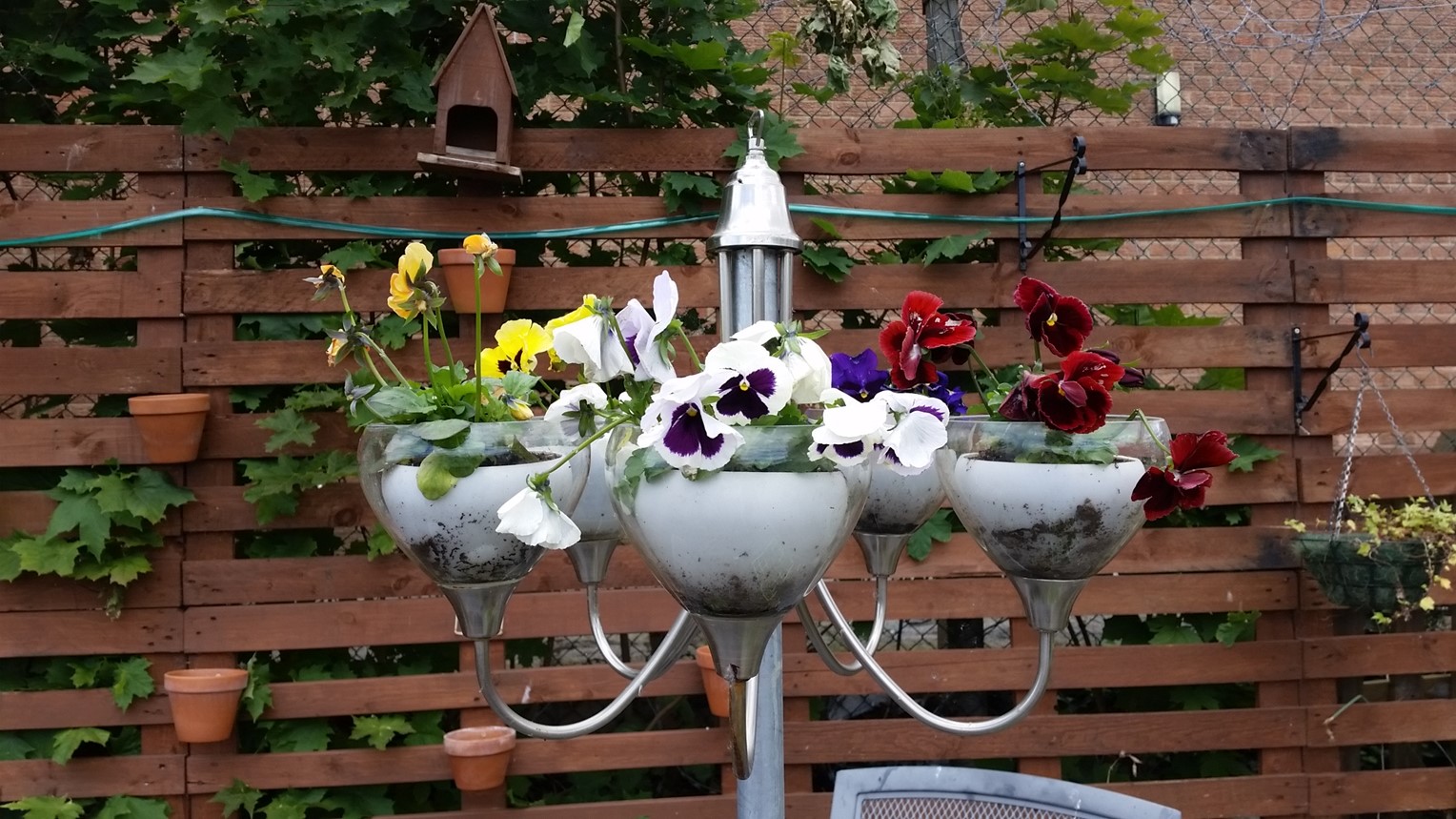 One of the biggest projects was using an ex-display bath tub, I turned this into a fish pond.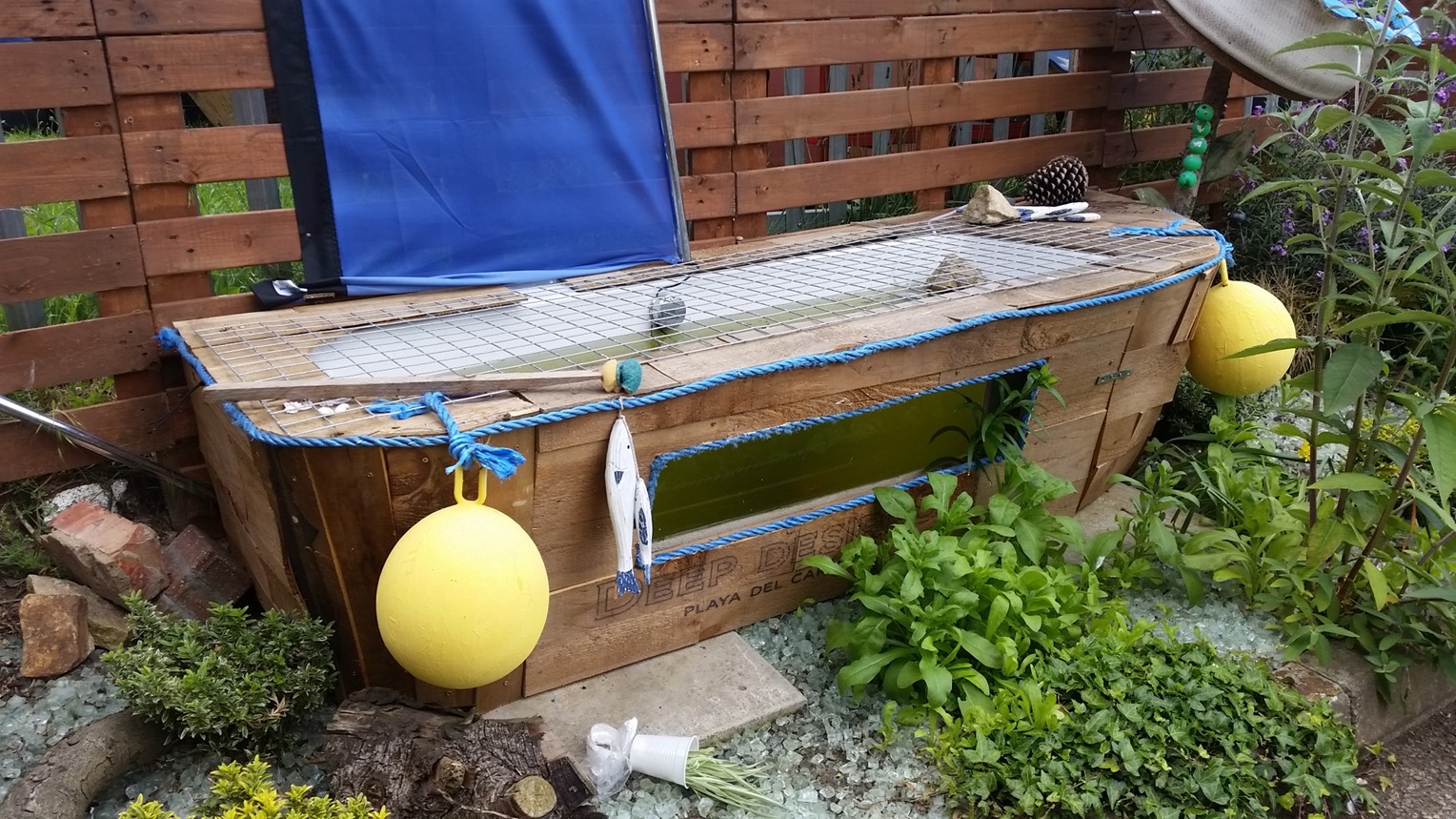 We are next to a BMW dealer in our industrial estate, and I spotted them throwing a plastic oil drum into their skip, so asked if I could take it, this is soon to become a wildlife pond. There is even a toilet which was taken out of our head office when we were refurbishing the toilets, this is an ornate looking planter.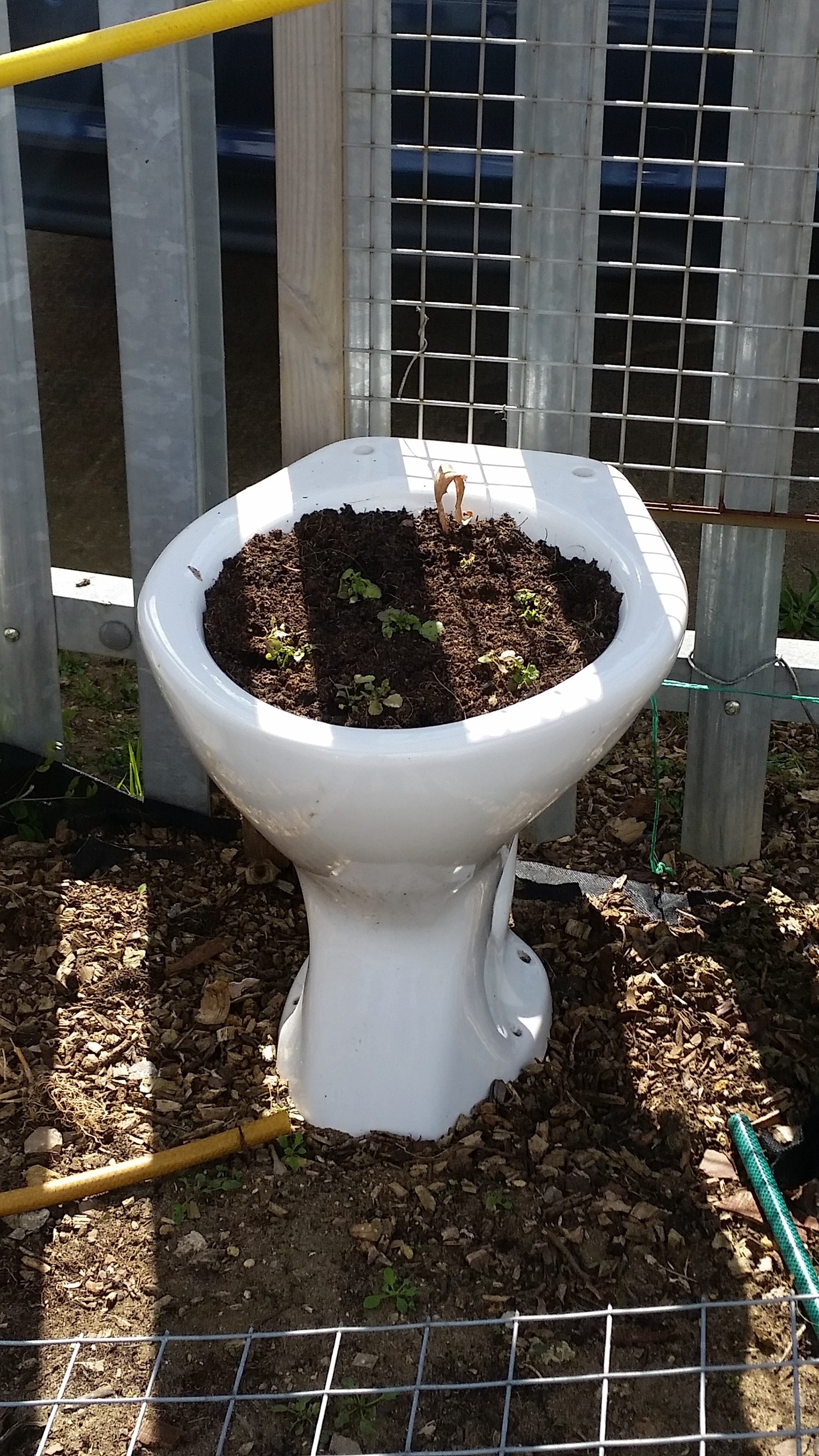 All the fencing around the seating area was made from old pallets, which we have an abundance of.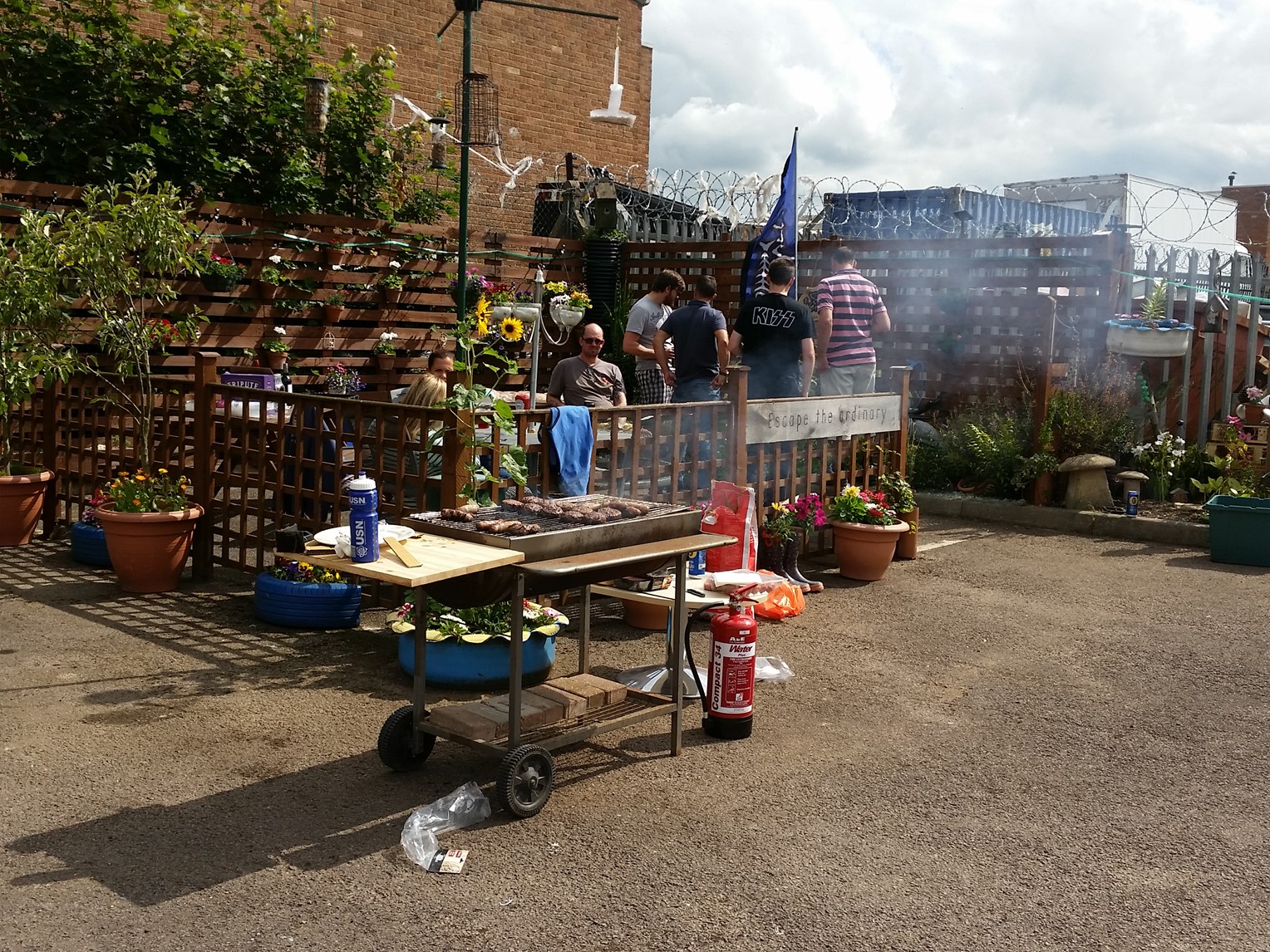 Taken at our summer BBQ in 2015
There is also a bird feeder made from an old rotary washing line, and old car tyres are makeshift flowerbeds.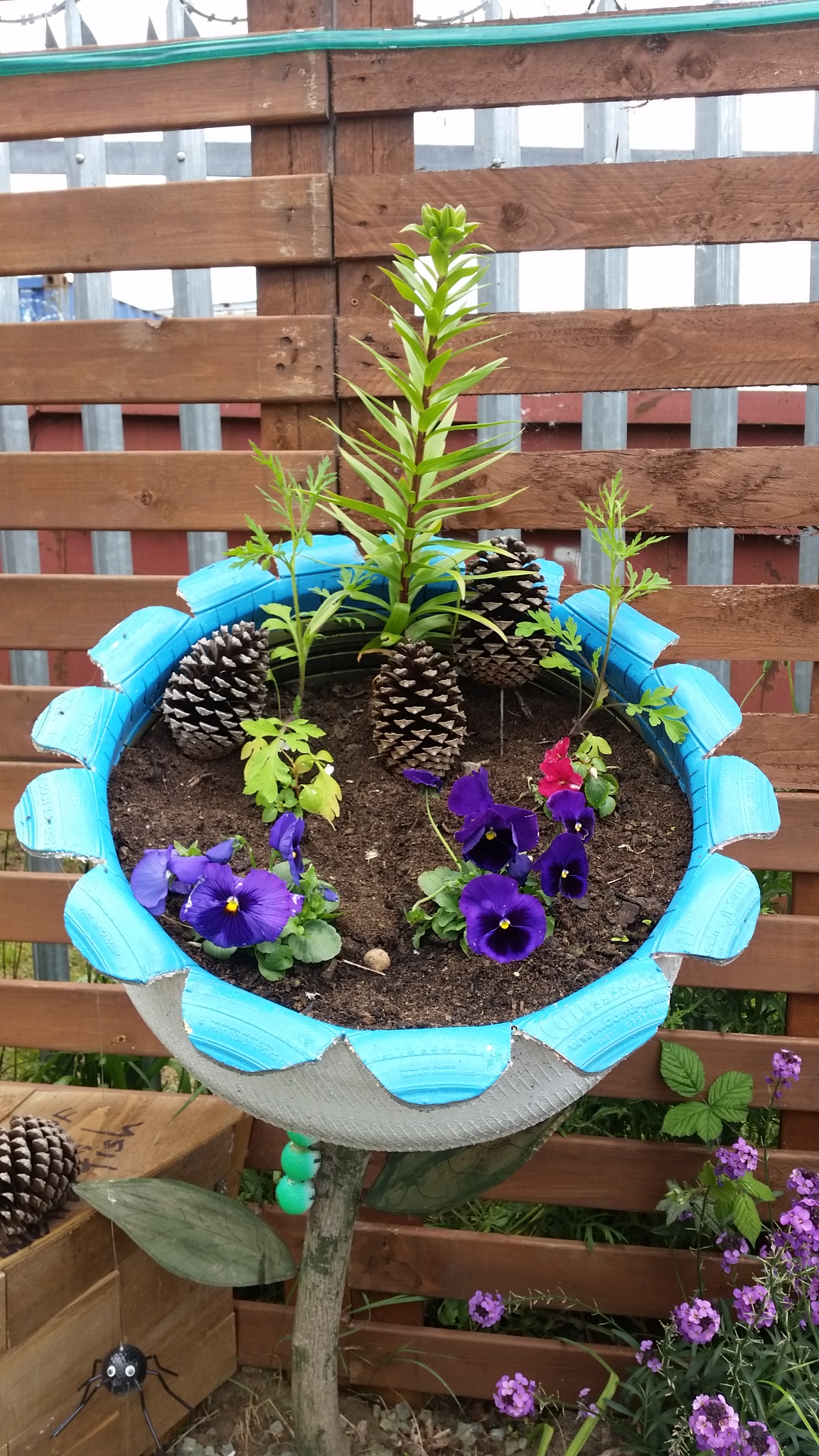 Can you spot the golf ball spider?
What wildlife have we had in the garden over the years and do you have any plans for new habitats to encourage more visitors?
Yes we have a family of foxes who visit. I made five bird boxes which we have had three families of blue tits, two families of great tits, and one family of robins. We have attracted butterflies to the garden with the flowers we chose to plant. Plus there is a huge bug hotel I made which is home to spiders, a mouse, a toad, and all types of insects. My next aim is to make a bat house, and I am hoping to adopt some hedgehogs to home in the house given to us by the RSPB.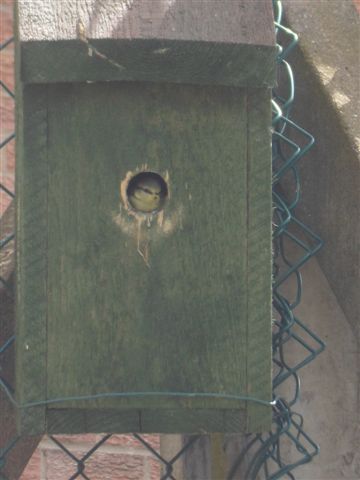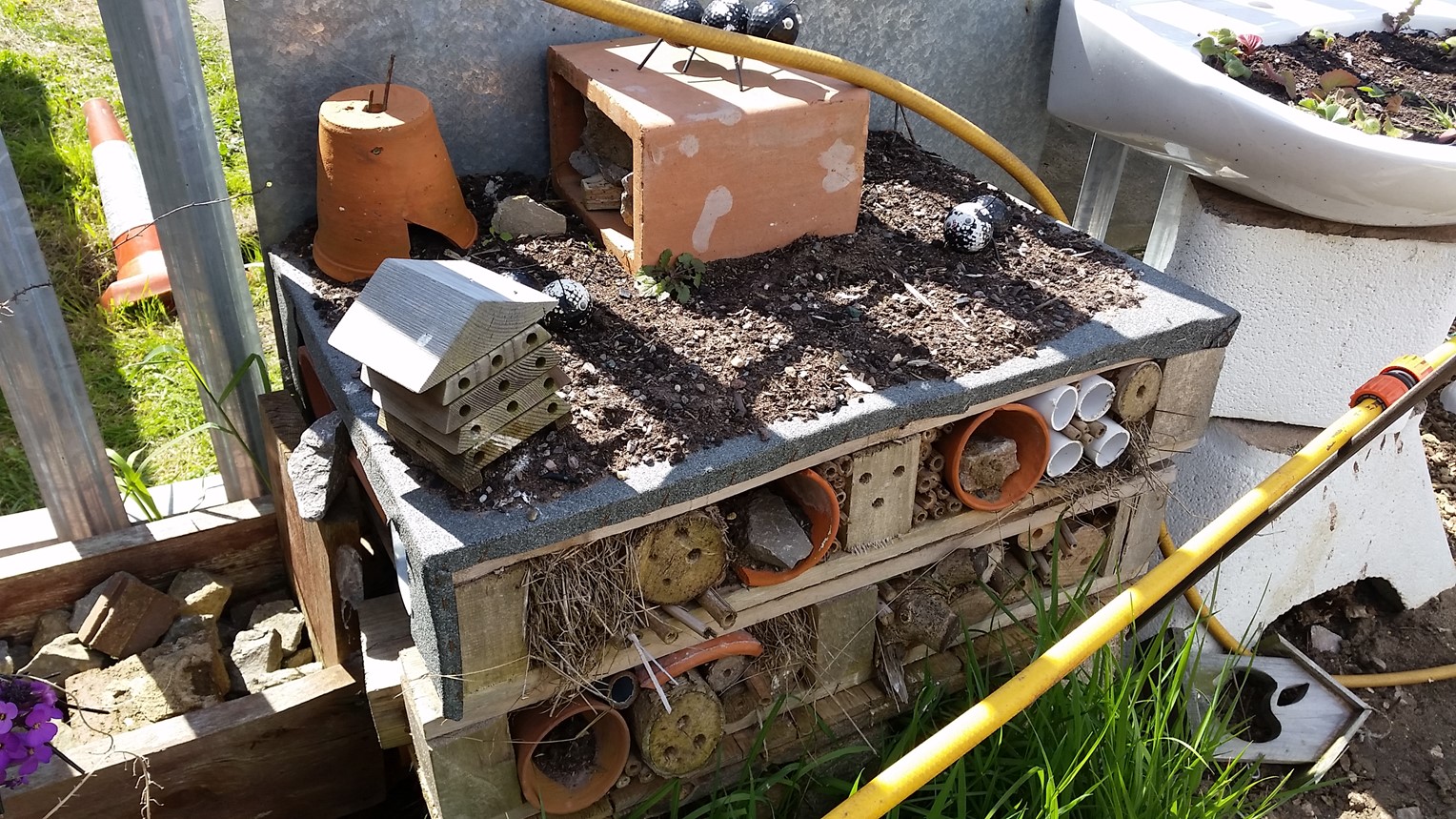 You aren't just green fingered, but very handy in many areas. You put in the lovely Weird Fish Bait Box Canteen for us. Can you tell us about your current board room table project?
Oh yes the table, well about three years ago we had a big glass boardroom table, someone went to move it and it shattered into hundreds of little pieces. Weird Fish knowing I liked to make use of anything gave the pieces to me, and I covered the floor around the bath tub pond for the flowers.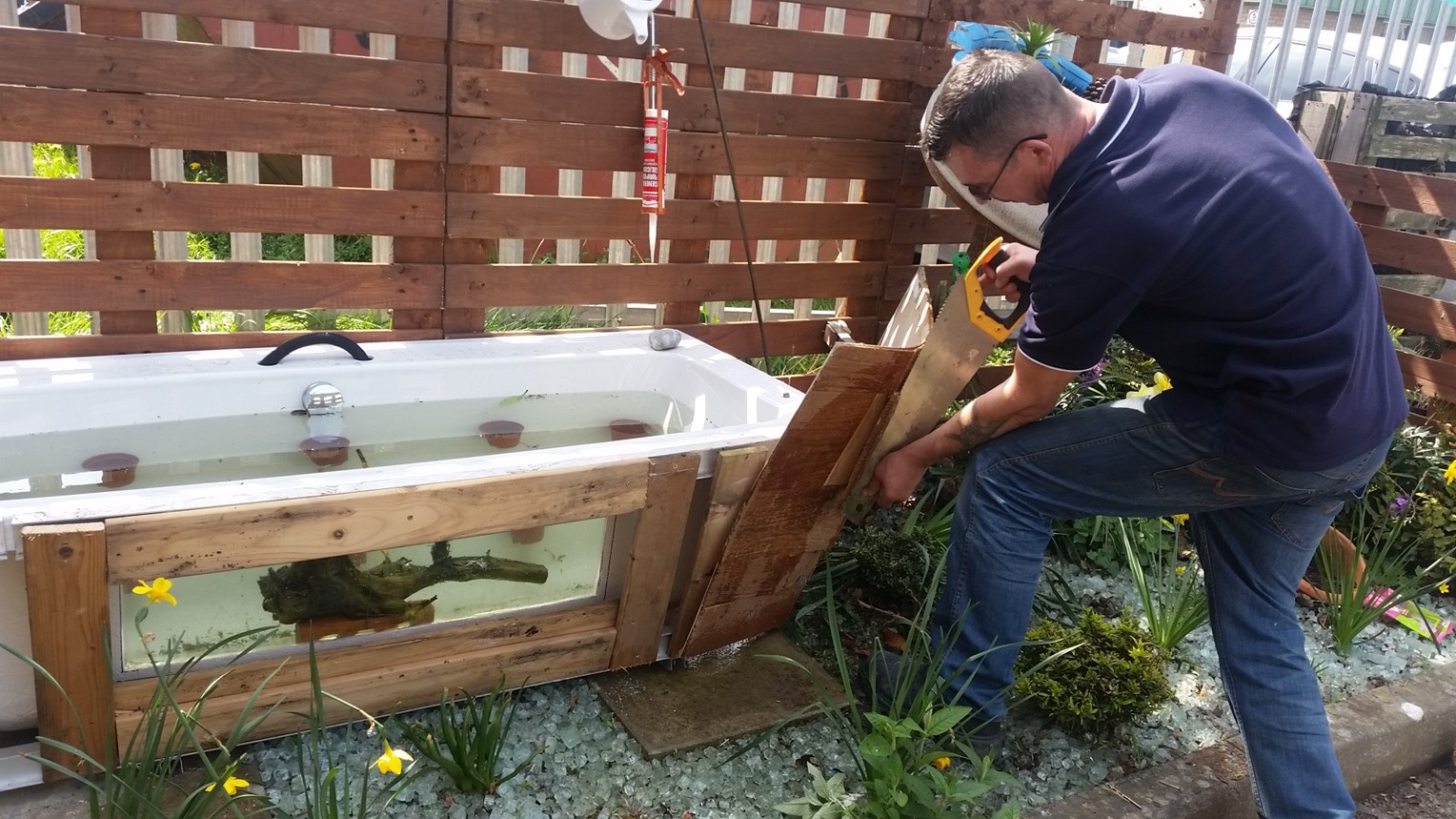 You can see the chunks of glass forming the base of the garden here.
Now lacking a table, this year I was asked if I could make one for our showroom, so I gathered lots of old pallets and bits of timber, then set to work on it. There is still a little way to go, but I hope to have it finished soon.
Do you enjoy creating things and do you have any future projects in mind?
Yes I loved to create things, along with my bat house, I am also planning a potting bench and I am in the middle of creating my own watering system, watch this space.
We just wanted to thank Ron "Maverick" Morris for being an all round brilliant chap, from looking after the garden, to serenading us with Danny Boy at Christmas parties. Thanks Ronny!