Behind the Scenes of the Summer Photo Shoot SS15 Continued
May 14, 2015
The 2nd day of our shoot started early, in search for some woodland. Being distracted by the amazing sunrise, we stopped in a lay-by on the edge of a hill with a beautiful view, much to the interest of the locals.
Julia took up her usual position behind the laptop, pink bobble hat peaking out.
On this chilly peak our fixer Michael managed to find a cafe who sorted us out with some coffee, and even hand delivered it to us. Now that is service.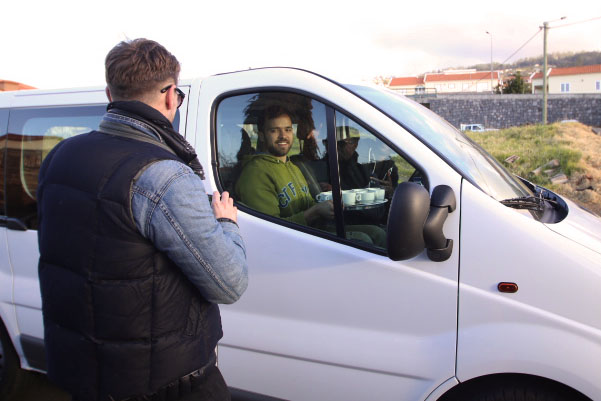 After a beautiful morning drive through the Madeira landscape we spotted a secluded location with an amazing old building and some suitable woods.
Adam getting a good view.
Strike a pose guys!
After some silliness we headed North to the natural lava pools in Porto Moniz.
The wind was rather strong on that morning
But we powered through, despite the cold
Julia taking up the usual position.
Triinu finding new and ingenious ways to keep warm and out of the wind.
Moments after this photo was taken the entire crew were completely drenched by that wave.
We even got it live as it happened to poor James
This was then a theme for the rest of the day to see how wet James could get.
Needing to dry off and warm up, we headed south, back to the sunny side of the island to the imported sand beach in Calheta.
Where James proceeded to get wet again.
The last beach of the day (we were a busy bunch) was in Ponta Do Sol. Some of you may recognize this from the front cover of our Spring Brochure.
We put the Weird Fish camping mugs to good use.
Around the rocky beach was a beautiful waterfall, so everyone had a chance to get a bit damp this time.
James did the honours of going first.
More than one pair of shoes were lost in the waves.
By this time the sunset was fast approaching, so we grabbed everything and everyone, and headed just around the corner a waterfall known as the "car wash". We sure you can see how it got its nickname.
This time James and Triinu had no choice but to get very wet indeed.
We couldn't resist wrapping the shoot with everyone involved getting under the waterfall.
Naomi may have been forced a little.
A fantastic way to finish off the shoot. A huge thank you to
Rhys Frampton photography
and all the team.
We hope you enjoyed reading this blog and all the photography, as much as we enjoyed creating it.